Imagine working in an environment where more than 50 languages are spoken. How would first responders communicate with the victims during an emergency?
In February 2004, this was an issue for more than 2,000 employees at the John Morrell pork plant in Sioux Falls, S.D., when ammonia diffused throughout the facility, causing a mass evacuation during frigid winter temperatures. More than 100 people were injured. Erroneous calls and a major language barrier hindered the Sioux Falls Fire Department's initial stages of response.
"Initially the call was [that] someone was injured in a piece of machinery, and it was later changed to a minor fire," said Jim Sideras, the department's fire chief. "When crews got there it was just one fire truck and then they realized that it was a significant event. The first call always seems to be wrong."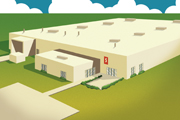 Ammonia - a colorless, pungent gas - is commonly used as a refrigerant and for food preservation at meatpacking facilities. Exposure to the gas usually causes irritation to the respiratory system, eyes and skin. Though the gas is mostly harmless in small doses, inhalation in high concentrations can cause lung damage and even death.
Because ammonia is considered a toxic chemical, the U.S.
Occupational Safety and Health Administration requires that it be handled as a hazardous waste, which meant response needed to be swift, organized and well executed, despite all the obstacles.
Obstacles Aplenty
With so many variables involved - lack of equipment, communication barriers and weather - emergency responders faced many hurdles to gain control of the situation.
View Full Story