The story of 20th century Glasgow after the First World War, is in bleak contrast to the previous century. Once an industrial and trade powerhouse, it was hit terribly by the industrial decline of the British Empire and the changing pattern of trade. Over the years since that war, Glasgow has tried hard to regain much of its former glory by transforming from its inward-looking, post-industrial slump, to a confident, outward looking, and a whole new economic base. And now Glasgow as a city is embarking upon something few other European cities have done before.

It is aiming to become one of Europe's greenest industrialized cities within 10 years, by taking the lead in the delivery of Scotland's ambitious carbon reduction targets. These included a huge 80% reduction of carbon emissions by 2050 (42 per cent by 2020) and eradicating fuel poverty by 2016.

In an example of sorts, the city is not depending on the government alone to achieve these targets. Critical to achieving its goal is what its administrators call "a unique initiative" -- one that will engage the City Council and industry as well as key stakeholders such as communities, housing providers and employers.

To kick-start this initiative at the end of January, the City launched The Sustainable Glasgow report that has laid the roadmap of "the first of its kind in the field of sustainability." The most significant feature of this roadmap is that it encompasses a wide gamut of green projects including renewable energy, district heating, sustainable transport, smart grids, biogas, biomass and energy management and efficiency.

"We want to really change the city," said Richard Bellingham, Senior Research Fellow, at the University of Strathclyde, Glasgow, who crafted the city's sustainable strategy in collaboration with Glasgow City Council.

This collaboration also has some Scotland's big corporate houses like Scottish and Southern Energy, Veolia (Source One), Scottish Enterprise and Blitzer, and Clancy and Company as partners.

"So this isn't about having high-level rhetoric but it is about using real benefit that people can touch and make a difference in their day to day life. We aim to improve the lifestyles and opportunities for city's people and businesses, as well as enhance its image as a leader in sustainable urban living," he added.

Indeed, given that the biggest challenge of any advancing city is climate change that comes with an additional challenge of energy management, Sustainable Glasgow "is a unique project." It aims drive down carbon emissions while expanding its energy generation to meet the needs of a growing city.

Bellingham says that to deliver large scale carbon emission reduction, any city has to understand its existing pattern of carbon emissions. "This may sound surprising but cities in Europe really haven't done geographic mapping of carbon emissions to any significant extent," he says.

Experts in Glasgow thus started with a bottom-up analysis of what the issues and opportunities are and what level of carbon emission reduction is technically and financially deliverable for the city on a reasonable time scale.

"Before we did that analysis nobody had any idea what Glasgow could achieve. The analysis revealed that a carbon reduction of 30 percent is entirely achievable for the city," said Bellingham. "This I think was significant finding given that Glasgow has no power stations, no fuel refineries, and things like that."

That information, says Bellingham, enabled experts to come up with a number of techniques to deliver carbon reduction with realistic targets.

Equally important was tackling the city's transportation system. Besides targeting a major reduction of the number of vehicles in the city center through intelligent transport, an incentive for using non-fossil fuel transportation, and similar efforts, Glasgow, as some say,  is "looking back to the future," to meet its green transportation needs.

It is planning an expansion
of the existing tram network, something that hadn't proved too successful until recently, as well as the introduction of the politically sensitive congestion charging.

Congestion charging - the concept of charging users of a transport network in periods of peak demand to reduce traffi c- has proven  to be a hot potato politically in the United Kingdom since its introduction in London.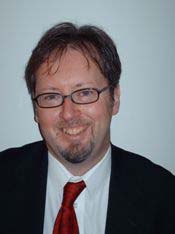 Photo: Richard Bellingham

According to Bellingham, although ICT is an enabler (amongst other things like money), and as such is an integral part to any low-carbon energy system. "Wherever ICT enables us to help in reducing carbon emission, like monitoring and designing a much more detailed control system across the city, we are using it extensively," he says.
Nevertheless, Sustainable Glasgow is not a purely technical project. Vital to its success is also understanding how to change Glasgow's behavior towards more pro-environmental actions. This will include influencing the attitudes and behaviors of Glasgow's residents and organizations so that the City can get their active support for all its environmentally sustainable efforts, including the crafting new ways of living and working.

Sustainable Glasgow, then, will include initiatives for creating and training networks of "sustainability champions" in local communities, employers, schools, and colleges.

Other similar soft initiatives will include assessing the availability and introduction of awareness recycling facilities and improvement of safety and perceptions of safety on public transport.
Predicted Costs
Clearly, going green won't come cheap for the City. The total capital cost of the major projects identified by Sustainable Glasgow is in the region of $ 2.3 billion (£1.5 billion).  "Since much of this investment will come from the private sector, we have had to ensure that our solution produces financial returns," says Bellingham.

Broadly the money will be spent on district heating ($921 million); renewable energy and energy management ($1227 million); urban woodlands ($ 45 million); and City Centre light rail-tram service (138 million).

Most of these projects will generate significant revenues and offer good rates of return on capital investments, expect the administrators.

"There are spin-off benefits as well," says Bellingham, "one of which is creation of new jobs."Additional jobs would be created through identifying the areas and technologies where new jobs are expected to be generated, identifying skills gaps in the potential local workforce; and working with partners to deliver training to meet those gaps.

At 8.5% of the adult population unemployment in Glasgow (as at October 2009) is significantly higher than the Scottish average of 4.7%. The proportion of employed adults (66%) is also significantly lower than the Scottish average of 76%. Parts of Glasgow are the most deprived in the UK.

Yet another integral part of Sustainable Glasgow's objectives is to transform the image of the city - both to its own citizens and businesses - and in the wider world. This will play a role in drawing people, businesses and investment to the city, as well as facilitating the successful implementation and operation of major low carbon energy initiatives. "We are making Glasgow a more attractive city to live and work. And therefore that attracts more businesses, more people, and more investing," says Bellingham.

According to the city administrators Sustainable Glasgow initiative provides a platform for the city to take the lead in the delivery of Scotland's ambitious carbon reduction targets. Energy use in Glasgow city is responsible for emissions of around 4 million tons of carbon dioxide every year. This is around 8% of Scotland's total carbon dioxide emissions linked to energy production and use. The breakdown by sector is Transport - 20%; Industrial/Commercial/Public sector - 42%; Domestic - 34%.

Admittedly Sustainable Glasgow is unique for what it sets to achieve. But it stands out as well for,
Bellingham says, "the many lessons that could be learnt from it."

One of which is the power of partnership. "A city council may well have the political vision but it may not have the necessary technical skills of how to deliver that vision," says Bellingham. "That's what we were able to do. We were also able to tell the City Council about what is possible and basically provide the Council with a realistic vision."

He added, "The other issue is that we took on board the City Council's political concerns; for some city sustainability is just about reducing carbon emission and hitting environmental target. For a city like Glasgow this can't be true. We needed solutions which also deliver jobs, regenerate communities and help tackle through poverty. And that is a political reality. So we were able to balance those various priorities."

Indrajit Basu is the International Correspondent for Digital Communities.

Photo: Trongate, High Street, Gallowgate & Saltmarket, Glasgow, Scotland by Colin Campbell. CC Attribution-Noncommercial-No Derivative Works 2.0 Generic