"We track that time the same as we do the BP oil spill. They go into these different buckets and our grant department is able to run reports, and it helps them become much more efficient." -- Gulfport Finance Manager Kini A. Gonsoulin (pictured).
Gulfport, Mississippi -- a town of about 71,000 residents located between New Orleans and Biloxi -- is separated from the Gulf of Mexico by a narrow strip of sand that runs for miles along the city's southern border. The beach provides one of the city's greatest assets as well as its biggest liability. For while it supports tourism, fishing and recreation, in recent years it has also hosted some very unwelcome events.

In 2005, Hurricane Katrina sent a 28-foot tidal surge across that white sand beach, wiping out 90 percent of the buildings along the Biloxi-Gulfport coastline. In 2008 Hurricane Gustav came calling, washing away the piers and jettys just replaced following Katrina. And for the past three months, the beach has been on the front lines of the BP oil spill. Last week, fishing season finally opened, beach cleanup crews have been put on standby while everyone waits to see the long-term effects on the ocean, beach and community.

Many of the city's 630 employees -- in addition to their normal duties -- have found themselves engaged in a huge array of activities related to those natural and man-made disasters going back to 2005. "We're still in recovery mode from Katrina," said city Finance Manager Kini A. Gonsoulin. "Every bit of our water, sewer and drainage system south of the tracks (a mile or so north of the beach) is being replaced in the city."

Gonsoulin, consequently, has a lot more financial "buckets" to account for. For example, any city employee who works on oil-spill related activities must keep track of those hours so the city can apply to British Petroleum for reimbursement. "We have a lot of shoreline in the city, so we've had to barricade jettys and recreational areas," said Gonsoulin, "and put signs up. Our Fire Department has done training. Anybody that's going to go out and handle this material or oiled wildlife has to have that training. And the president was down here, and when the president comes to town, that's a big deal. We had a lot of hours involved in security, etc.

"We're using the Kronos technology to capture those hours," said Gonsoulin, because the records for reimbursement must be accurate. "The first reimbursement I sent up, they were pretty impressed. We printed out the time sheets from the Kronos system, and it gives it more validity than a hand-written time card.

"So when they go from a usual activity to one related to the oil spill, we make sure they capture that time accurately. Then we can pull it and get what we need right out of the system. The employees enter their ID number or use a swipe card. We have time clocks in most of our main facilities, and we also have mobile data terminals in all our police cars that operate on our wireless network. That allows our police officers out in the field access to the online applications. So they can clock in and out from their cars -- except for a few dead spots around the city. We have antennas on water towers, etc. to try to get as much coverage as we can."

Gulfport's police department also uses the system to track work related to Department of Justice grants. "We track that time the same as we do the BP oil spill. They go into these different buckets and our grant department is able to run reports, and it helps them become much more efficient. And helps get
our reimbursement just a little bit faster. That's important," she said, "because of the economic times we're in." And this year, said Gonsoulin, city employees had to take three furlough days to help make ends meet. "It was a big help to track those, to make sure everyone took their alloted time, etc."

Gonsoulin says the Kronos system catches errors, especially compared to manual time sheets where there are many steps by different people that can cause errors. "With Kronos all the calculations are done," she said. "It's just streamlined our whole process. And we have the benefit of the reports, being able to draw back these funds on all of our grants. And just tracking things.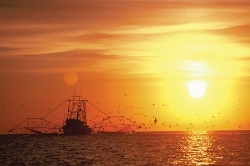 Things are looking better for Gulfport this week, even though there is still a lot to do. Gonsoulin's husband, who was picking up tar from the beach, is now sampling bottom sediment offshore. The fishing and charter boats are heading out into the gulf. "The beach has calmed down," said Gonsoulin. "BP is letting some of the cleanup crews go. They did have folks out there walking the beach every day for miles and miles, and now they are kind of getting back to a standby crew. If something's spotted they'll send them out there to clean it."

Gonsoulin says she's been with the city since 2002 and it's been interesting. "I told my boss," she joked, "if we have one more disaster ..."