California has been an epicenter of the home foreclosure crisis, as loan defaults pile up at record pace. Statistics from real estate data provider DataQuick bear this out: More than 135,000 default notices were sent out to homeowners from January to March, a 19 percent increase compared to the same period a year ago.
Los Angeles has been part of the financial wreckage. City officials there decided that an online map made available on the L.A. Housing Department's Web portal would be helpful -- especially for those seeking to buy bank-owned and foreclosed homes that qualify for loan assistance from the federal Neighborhood Stabilization Program (NSP).
Congress approved the $3.9 billion program in July 2007, as the country began its descent into a recession. Los Angeles was allocated $32.8 million for the NSP from the U.S. Department of Housing and Urban Development. Some of that money goes toward purchasing assistance and home rehabilitation loans for buyers in priority areas -- neighborhoods with a combination of high unemployment rates, numerous subprime loans and skyrocketing numbers of foreclosures, said Doug Swoger, director of homeownership and preservation for the L.A. Housing Department.
"The Web site was established primarily for the walk-in homebuyer program, so that people that need information can participate. It's a tool by which they can identify properties in the NSP priority areas that would be eligible for the NSP purchasing and rehab loans," Swoger explained. The map went live officially this spring, after only four weeks of development. Microsoft helped with the project.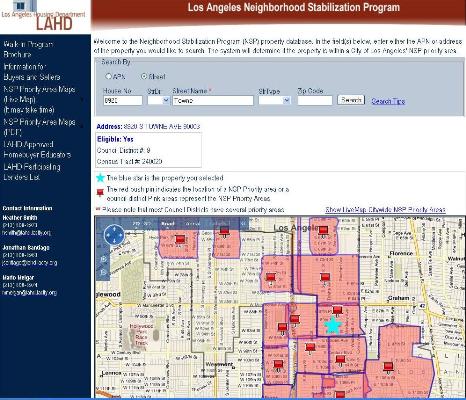 More HUD Grant Money Available
Built on Microsoft Virtual Earth, the housing department utilized GIS layers provided by the city's geospatial data repository to make a database that draws the boundaries of the priority areas. They are colored red on the map and marked with red pushpins. Users can manually enter street addresses into a search field, and the map will tell you if that address is part of a priority area.
In the future, if the housing department wants to change the boundaries of the priority areas, all that would have to be done is modify the GIS layer of street addresses, said Ying Ku, the project manager of applications development for the housing department's Development Bureau. The only costs are a subscription to Virtual Earth and manpower for IT testing and development, she said.
"What we're weighing right now is some way to be able to list actual properties that we know are [bank-owned] within those priority areas. Right now, someone has to know an address and go search -- and we think it would be helpful to people if we had actual [bank-owned properties] listed on the site," Swoger said. But constantly updating such a list could be a challenge, he said.
Swoger said the HUD is considering L.A.'s map for its best practices. He said the map is saving L.A. government a lot of time and effort.
"In the past, I think we would have been drawing these maps on Thomas Brothers [printed maps], and then distributing them -- somehow making them available to folks through public meeting, and so forth. As this evolved, that is kind of how where we started, though: We were talking about what we could do, and it actually evolved out of, 'Well, let's just draw it on a Thomas guide, and see how that works." L.A. ultimately made that printed page into an online, searchable map.
Municipalities, state governments and nonprofits have a chance to apply for additional neighborhood stabilization money. HUD Secretary Shaun Donovan announced Monday that the department is accepting applications for another round of NSP grants, nearly $2 billion funded by the economic stimulus package.