The last few years have been rough for Wayne County, Mich., on the economic front. In June, County Executive Robert Ficano proposed about 500 layoffs in his 2009-2010 budget because of a looming $105 million shortfall -- obviously bad news for county employees.
The county is home to Detroit, the famous pillar of the American auto industry. According to a study by the Center for Automotive Research, auto-related jobs accounted for one out of every 10 U.S. jobs in 2003. Two large domestic automakers have since gone bankrupt. General Motors filed for bankruptcy protection in June, and President Barack Obama forced Chrysler into federal bankruptcy protection in April so the company could merge with Italian automaker Fiat.
"The bottom line is: There is no money. Our revenue comes from taxes. People are moving out, and businesses are folding. There's no money," said Tahir Kazmi, the county's CIO.
Something had to be done to keep business in the region and improve the economy. Wayne County leaders had the foresight to partner with the private sector in an endeavor to attract new business and lighten the local government's IT burden.
"We were thinking, 'What can we do here that will lead into at least a starting point for a technology hub?'" Kazmi said.
Wayne County began working in 2008 with Secure-24, a company that provides managed hosting services, to enhance the area's technology infrastructure. The partnership resulted in the Technology Resource Center, a data center located within the county in Plymouth, Mich. It's designed to handle the gamut of IT resources for willing customers -- disaster recovery, business continuity, data storage and application housing. In fact, Wayne County plans to house all county services inside the data center and will reach out to other governments and private-sector companies so they can do the same. Secure-24 announced the data center's opening in spring 2009.
"We partnered with Wayne County in providing what we refer to as critical-application hosting serv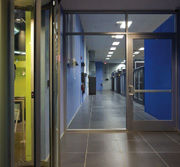 ices, which means that we're running some of the more important government-focused ERPs for them," said Matt Wenzler, Secure-24's global sales and marketing team leader.
These applications are crucial to county business. "If they go down for a few minutes, it has a significant impact on the county's ability to continue to run and process business."
The relationship between Secure-24 and Wayne County began in summer 2008. The two set the goal of building a state-of-the-art shared Tier 4 data center in Michigan. Tier 4 facilities don't have to shut down for maintenance because they have multiple power and distribution paths. Secure-24 invested an initial $5 million in the project and expects the total investment to exceed $10 million over several years.
"We began developing our relationship with the county, specifically with their CIO Tahir Kazmi, and then also other members of the management team and executive team -- with the county in coming up with a concept and bringing it to fruition," Wenzler said. The public-private partnership between the county and Secure-24 was born.
The Big Draw
The data center is housed in a 20,000-square-foot facility that's built for action. It's a one-story concrete and steel building that can handle external stressors, but likely won't have to. Michigan isn't prone to hurricanes, wildfires or earthquakes. The facility also has a 24-inch raised floor that delivers conditioned air from below and 28-foot-high ceilings with air returns that ensure a homogeneous temperature.
The plan is for cities and other government jurisdictions
within Wayne County to opt in to the data center. After an entity signs an agreement with the county and settles on a payment option, the county generates an additional revenue source.
"We're just reducing the strain on the taxpayer dollar," Kazmi said.
Participating entities will spend less money with Wayne County and Secure-24 than they would spend in most other arrangements, Kazmi said, though he wouldn't divulge price details. If governments house their applications on the equipment in the Plymouth data center, they won't need to make the requisite hardware or software modifications on their own equipment, or expend the internal manpower to manage it.
"For the government, the margins are very small in terms of co-location," Kazmi said. "They just move in there, and their equipment is there, using the existing infrastructure that is part of the data center."
He theorizes that municipalities in the county will be receptive to the Technology Resource Center because a third-party vendor like Secure-24 is involved in the management.
"You know how paranoid governments are. Wayne County has 43 townships and communities. They don't talk to each other. They don't like each other, so if I put a data center here in my building, nobody would want to bring their service down here and put it here. Nobody wants me to run that data for them," he said. But if a third party is managing it centrally, it builds a level of trust and fairness.
Wayne County will also market the Technology Resource Center to governments that are beyond the county's borders, even in other states.
"We have a marketing arm that is promoting all of this, and that is reaching out to other states, counties and other communities," Kazmi said.
Private-Sector Pickings
There's a large field of potential customers that Wayne County and Secure-24 can pursue. The county is currently negotiating pricing agreements with a handful of corporations.
One that's already signed the dotted line is Stardock, a Michigan-based PC game and software company. According to Larry Kuperman, a global account manager for Stardock, the company needed a server environment with reliable uptime that could send and receive large quantities of data.
"We own a games delivery platform that's 100 percent Internet-based, so not only is our merchandise sold and delivered through the Internet, but also our store's on there. So for us, having dependable bandwidth is truly mission critical," Kuperman said.
According to Kris Kwilas, Stardock's vice president of technology, the company has been involved with the data center since spring 2009 and is satisfied with the service level.
"The quality and quantity of our Internet connection are of paramount importance. If they aren't as fast as they can be, we're literally losing money because we're falling behind on what we could be doing," Kwilas said.
According to Kwilas, Stardock is located close to the Technology Resource Center in Plymouth, and the company has fiber line running between its offices and the data center. Kuperman added that the company might have considered moving its base of operations if not for the resource center's proximity.
"There definitely would have been a cost to get a comparable level of service, certainly in terms of the fiber provisioning and connectivity -- I believe that's actually paid for by the mile. Having it literally down the street is certainly saving us a lot of money each month," Kwilas said.
Stardock is not the only company currently housed in the data center, and Wayne County hopes others will follow suit as time passes because these entities can bring technology jobs to the region and help energize a local economy that needs it. Kazmi hopes this will help displaced workers who aren't finding much luck with recent foreclosures and employment disarray in the auto industry.
"For us to really bring back this county and region, we've got to utilize the same work force. And in order for us to utilize this work force, there have to be technology-based forms of businesses that can move in here to create some jobs," he said.