Over the past half-year, the
Boston Mayor's Wireless Task Force
has been diligently investigating how to create an innovative wireless networking solution for their metropolitan area. On July 31, 2006, the Task Force recently released their
Final Report
with recommendations to the Mayor.
The recommendations contained in the Task Force Final Report represent "best practices" well worth reading through and a number of forward-looking innovations are integrated into the proposed Boston municipal wireless business model. The Task Force's recommendations demonstrate a break from traditional municipal broadband models like the ones being utilized in Philadelphia and San Francisco, and incorporate new ideas and perspectives for maximizing the social and economic benefits to the Boston community.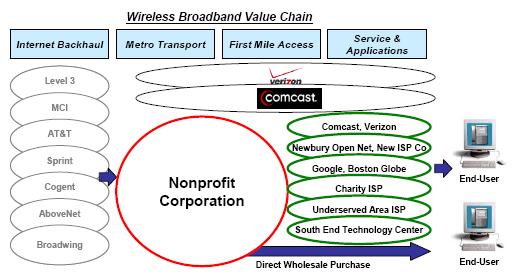 For those with only limited time, the Final Report's executive summary gives a very good synopsis of the Boston proposal and is well worth the read. At first blush, Boston's model appears to be a fairly radical break from the direction that most municipalities have been moving. Yet the rationale is predicated upon an explicit economic analysis that documents that the Internet Access Value Chain currently used in most business models inevitably leads to consumer pricing often costing $40 monthly. The Boston business model, on the other hand, has the potential to lower the average monthly costs to end users to less than half this amount by cutting out the middle men and ensuring that wholesale broadband is available to any and all service providers, "the target end-user price should be less than $15 (as low as $7) per month at speeds of at least 1.5 Mbps, and increasing with demand and improvements to network technology."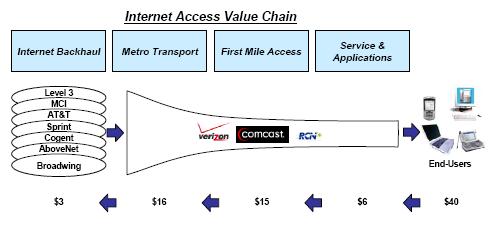 In essence, the Boston business model, unlike many previous municipal wireless networks, actively fosters competition in service provision by creating a level playing field and opening up the network to all players. One municipal project that has done likewise is the
Utah Telecommunication Open Infrastructure Agency
, better known as UTOPIA.
UTOPIA is a fiber (as opposed to wireless) network, but the similarities are striking. On the UTOPIA network, different service providers compete to offer Internet and other broadband services (e.g., phone, TV). The result? 15MB/s symmetric broadband lines for roughly $40/month. This speed is the quivalent of roughly 10T1 lines, and dozens of times faster than the upload speeds of most DSL and cable modem users.
Boston's Task Force recommendations would lead to a network that parallels UTOPIA's successes, but goes even further to supporting a dynamic rollout of infrastructure. The Task Force prioritized eight facets of the project that are of particular import during implementation:


Ubiquitous -- coverage is available everywhere.

Affordable, Scalable Pricing Models -- much cheaper and more customizable
than today's options.

Interoperable -- access is consistent throughout the city.

Open to Extension by End-Users.

Open to Developers for Long-Tail Applications -- published physical and application interface standards.

Uncensored -- no site blocking.

Secure / Trusted.

Non Discrimination of Applications and Services.

Taken together, these recommendations help ensure that Boston's wireless infrastructure both remains a neutral network that provides wholesale access to all potential providers and that system integrators utilize standards-based protocols for routing (i.e., the network itself will be open architecture). With the debate over Network Neutrality continuing to heat up, the overarching goal of the Boston Task Force's recommendations is worth noting, "In order
to introduce the most competition possible, the City should implement a platform that opens the Metro Transport and First Mile Access portion of the value chain to all retail broadband providers equally on the network ('Carrier Neutral')."

The Task Force also recommends that the network be owned and run by a non-profit, finding that although some risks were assumed by the municipality, the opportunities far outweighed the detriments. While many municipalities have adopted an "RFP" (request for proposals) or "Franchise" model for delivering broadband services, the Boston Task Force found that the non-profit model had far greater benefits for local residents:



Details:

Non-profit participation in the value chain

Backhaul / transport at minimum

Non-profit entity established with board and funding

Private companies serve other value chain elements

Non Profit conducts RFP to find private partners

City has process to select non profit and establish asset grant





Risks:

Non-profit must assume some market, technology, demand, and funding risks

Significant political, legal, and execution risk

Partner does not perform to requirements

Non-attractive bids





Opportunities:

Provides a unique platform for innovation

Platform for state-wide expansion

Universal digital divide support

Control over execution, management, operations, partnerships, etc.



The Task Force Final Report also lays out seven criteria for the technology utilized to build the network. These "characteristics" include:




Scalable to the entire city.

Provides wireless services for residents, businesses, commuters, visitors, and government agencies.

Cost competitive to end users and economically viable to network owners and service providers.

Technologically advanced and cost effectively upgradeable.

Open to multiple service providers.

Able to operate certain key cutting edge applications.

No incremental cost to City of Boston to build or manage the network.



Basically, the goal for the Boston wireless network is not just to get broadband access to residents, it is also going to be a proving ground for new business models, technologies, applications, and future innovations.

Sascha Meinrath is the co-founder and Project Coordinator of the Champaign-Urbana Community Wireless Network (CUWiN), one of the world's leading open-source, ad-hoc mesh wireless projects He is also on the Board of Directors of CTCNet, a US-based network of more than 1000 organizations united in their commitment to improve the educational, economic, cultural and political life of their communities through technology. And he is a regular contributor to Digital Communities.

Photo