Copy that.
That is something first responders in Burlington County, N.J., can now say because they are able to communicate during catastrophes. In July 2008, the county's Office of Emergency Management (OEM) began using military technology in its Emergency Operations Center to connect seamlessly with first responding agencies during incidents. Using an integrated voice communications system (IVCS) -- designed for use in the U.S. Navy's nuclear submarines -- OEM staff and emergency management crews with disparate communication devices and on different radio spectrums can speak with one another.
But that wasn't always the case.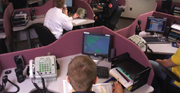 ---
Photo: Burlington County, N.J., Emergency Operations Center staff uses an integrated voice communications system to streamline talk groups when responding to incidents/Photo courtesy of L-3 Communications and Burlington County, N.J., Emergency Operations Center.
---
The Problem, the Solution
Burlington County consists of 40 municipalities and is the largest county in New Jersey. Like many jurisdictions, it had communication barriers when responding to emergencies. And 9/11 and Hurricane Katrina impressed upon everyone that closing the gaps in communication must be a critical part of emergency response and recovery -- those events were a wake-up call for the emergency response community. But with numerous factors that plague interoperability, such as balancing budgets, old technologies and spectrum disparities, how could the Burlington County OEM overcome these inadequacies and let emergency management agencies collaborate with one another to assist citizens?
The solution came from the MarCom communications system used by the USS Greeneville, a nuclear submarine that was dry docked for refurbishing. MarCom, developed by L-3 Communications, a Camden, N.J.-based company, uses off-the-shelf digital technology that facilitates communications by integrating different devices, making it more user-friendly and simple.
The system also provides additional command-and-control capabilities during incidents.
Prior to deploying this IVCS, OEM staff had to monitor different radio spectrums in a separate room. In the past, the OEM had a wait-and-see approach when emergencies occurred. But with the IVCS, staff members can monitor radio spectrums and receive alerts, as well as coordinate with other agencies.

For more information on the Burlington County interoperability solution, please visit Emergency Management's Web site.