Joseph Bruno was appointed commissioner of the New York City Office of Emergency Management (OEM) in March 2004, and has since overseen the city's adoption of the Citywide Incident Management System; the growth of Ready New York, the city's preparedness campaign; and helped create Notify NYC, an emergency notification system for city residents.

Emergency Management magazine asked him about the city's plans for stimulus money, as well as public-private partnerships, community outreach programs and more.

Q: What effects have the stimulus package had on your jurisdictional plans?
Bruno: The stimulus package in New York is going to be used mainly on infrastructure - rebuilding bridges. There are six basic projects and about 12 additional projects. Bridges are big, there's some roadway stuff and also a little bit of work on the ferry terminal.

One of the projects is to work on the resiliency of the Brooklyn Bridge in different portions of its infrastructure, some of which I don't really want to go into detail about: resiliency for ordinary incidents, but also for hazards like hurricanes and other things that might come in.

It's important to us that the more we put into infrastructure, the more it will be able to withstand emergencies that occur here. Maintaining transportation networks and routes, which is part of what they're doing, helps us also. It cuts back on the number of emergencies.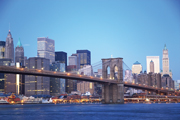 Q: Were these projects in the works before the stimulus package?
Bruno: Some were in the works and some were definitely on hold because of the economy, so we were able to fire them up. The projects were ready to go within a reasonable amount of time. So I think they all were planned, but they certainly all weren't ongoing. The stimulus package has helped because it has allowed six major projects and about 12 additional projects to move forward.

Q: More than a dozen private-sector groups operate alongside you in the city's Emergency Operations Center (EOC). What are these groups?
Bruno: We're probably one of the few cities that have such a strong relationship with the private sector and really incorporate it into our EOC. They sit there with the mayor and whoever else is going to be there, and they are observing and learning.

We have, for example, private universities. We have the Hotel Association of New York City, which covers an enormous number of hotels, hospitalities and institutions. We have the Real Estate Board, which is the ownership of the major real estate in New York - a very large and influential group.

Next are the financial and banking institutions. The Securities Industry and Financial Markets Association, Wall Street and the Food Industry Alliance of New York State are others. The city is filled with restaurants, and a lot of things that occur could affect lots of restaurants, so [the New York State Restaurant Association] sits in the EOC.

The New York City Business Improvement District [participates]. They are the areas of the city, like Grand Central, Times Square, Downtown Brooklyn, part of Coney Island, and all of Midtown and Lower Manhattan that have been designated as business improvement districts - there are now more than 100 of them. They're in Queens, the Bronx and all these areas where industry has continued to grow, business has become more consolidated and it's a distinct area. The good part about them is they give us great access to small businesses when something bad happens.

Q: And you have a direct line to them, it's quick and they're right there?
Bruno: They're right in the room with us. We open whenever there is a major emergency for the private sector. [It's] an open conference line where people can come on the line, and individual companies can seek advice and information about where we are at certain levels if they haven't gotten it from their association. We also have CorpNet, which is a paging system that we put out from OEM to the private sector. They have to be legitimate businesses [to get it]; they have to register at the level that allows us to feel that the information will go up and down for the organization. We provide them day-to-day situational awareness of what's happening in New York City. Virtually everything I get on my paging device, they get.

Q: You're practicing that daily, so when something happens it's "old hat?"
Bruno: That's right. Every one of those groups that I mentioned has designated staff. We've trained them how to use our software in the EOC, and they know how to use the systems we use, where we are and when they have to come in. We have a call-down program to make sure we deploy them back to the EOC. It's a very organized approach with a lot of training.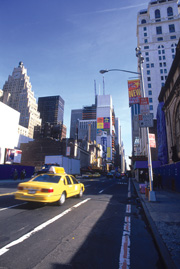 Q: To what degree do you include social media before, during and after events?
Bruno: Pre-event we have the Ready New York program, which provides guides. These are household guides, all the way down to people with disabilities or pets. We produced this in several different languages, in many cases, up to 14. We do public-service campaigns. We have videos, audiotapes and Web content that we will pass out to agencies and entities that want to put it on their Web site. We have a speakers' bureau, and we do presentations - in the last year, we did more than 250 presentations to large and small groups. We have a school program going on now where we are educating schoolchildren during and after school; corporate partnerships; a high-def DVD [is emerging in] many of the learning programs we have for people who we want to talk to about preparedness. We have distributed more than 6 million guides since 2003.

We are now moving to where the young population is, or lots of people are: Twitter, Facebook and LinkedIn. We are opening up our own page on these sites, where we will start putting information on our preparedness and what we think people have to know to be safe in this city.

Q: Talk more about community outreach and the various ways you accomplish it.
Bruno: The other thing we're doing during emergencies, or even before them, is we reach out to the ethnic media. We have lots of different ethnicities in New York City - maybe 130 different languages - so we reach out to the ethnic media. We know that is where many people get their information. We also reach out not only to the more established media, but also independent news outlets. We bring them in on a regular basis to instruct them on what we're doing, give them information and get contacts. During emergencies, we work with the Mayor's Office and are responsible for coordinating the media outreach for the city. One message comes out of City Hall's press office.

We coordinate all of the public information officers of the agencies involved that have input into a message. That's our job. During a large-scale emergency, we will
manage the city's Joint Information Center. We will bring all the entities into OEM, and have all the press officers work it through with the mayor and his press office, and the mayor will often go on-air to give the message we've created.

Notify New York City is a notification program. It's in the pilot stage in four communities. Very shortly, it will go out to a citywide pilot and then full-blown, and people will be able to register for it.

We're going to use many different methods to get to as many people as we can and be as specific as we can in how we get information out - like using cell towers and GIS, which will allow us to draw a circle [around an area] and notify everyone within the circle.

Postmedia, one thing we do that's an interesting program is incident-based distribution of material. When an incident occurs - a very significant emergency - we will go out and distribute our guides to the community. We know that community has been traumatized by the incident, and we think it's a good time to get them some information about preparedness, [after they say], "This thing really scared the hell out of me. How do I deal with this if it happens again?" That's a good time to put out the information.

Q: What is your most important piece of equipment or solution?
Bruno: The biggest solution we have is the Citywide Incident Management System under which we manage emergencies. It gives New York City agencies - very large, robust agencies - a game plan to follow. It sets forth who's in charge and the structure that we follow, which is the national structure; it's changed a bit because New York City is somewhat unique. We know who's in command, who directs what work and all the agencies that should be there, and we assure that they are there.

Important on the equipment side or the facility side is a backup EOC. We need to have a backup EOC. We have a hot-site backup EOC in NYC now, so I could walk there and what's on my desk right now is on my desk there. We have an EOC there ready to go - as big as or bigger than what we have in New York City - and that is very important. Perhaps I should also mention mobile assets. For example, we have lots of GIS capabilities, and we have a mobile asset that we can bring into the field and do it on the fly.

Q: If you had a magic wand for funding, what would you spend it on?
Bruno: I would spend it on postdisaster housing build-out. I think we'd like to see FEMA step up, create a menu of options for postdisaster housing across the country - from rural to dense populations, like New York. We would like to see prototypes built across the board and store a whole bunch of them for the federal government to make available in different parts of the country. For example, [make some that] are hurricane-proof because you know they're going to need postdisaster housing.

I would have FEMA enter into a contract with New York City and we would help them build that capability not only for us, but for the whole country.

We suggested to the federal government that a major thing they could do with the stimulus package is take a look at postdisaster housing, the needs that we recognize down in all the hurricane-prone areas and try to foster a capability in the U.S. and maybe in industries that are currently hurting - a capability to gear up in the event postdisaster housing is needed. I don't know that the stimulus package overall in the U.S. is really approaching that problem, but we do think that would be an area that could be very fruitful.