San Jose, California's San Jose 2020 General Plan began in 1994, and recently got some technical upgrades. An online video outlines the planning process and details some of the characteristics of great cities around the world, including:
Healthy and safe neighborhoods
A well trained and abundant workforce
Strong police and fire protection
Parks and trails
High-quality education
Community facilities
A variety of transportation choices
Vibrant and exciting downtowns
Strong economies
Most of all, says the video, great cities are great places ot live work and play.
Sample survey question results from San Jose's Wikiplanning system: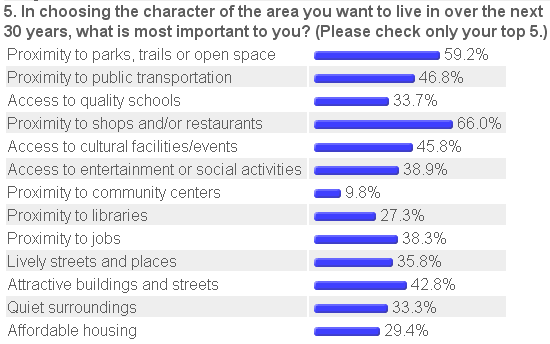 To help San Jose achieve some of those characteristics, the city has employed some Web 2.0 features, such as wikiplanning, where residents can weigh in on matters of importance, take a survey, comment on the plan, and become a participant in the process.
Wikiplanning begins with an introduction and welcome by City Manager Debra Figone, then Michael Brilliot Senior Planner for Envision San Jose 2040 gives a guided tour of the Wiki process and how the visitor can contribute.