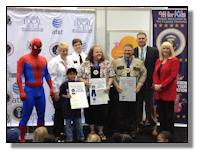 Most of us have probably called 911 at some point in our lives to report a crime or a car accident. We take it for granted that the call will be answered efficiently and help will arrive quickly.
We forget, however, that calling 911 is something we learn to do. Even adults will overwhelm 911 after a minor earthquake with "did you feel that" calls. Calling 911 is a skill to be taught, knowing when to call and when not to call, staying calm, relaying the proper information. 911 For Kids is a non-profit organization dedicated to helping kids know about 911 and also prepare for other disasters and emergency response.
I attended an inspiring event at the APCO 2012 Conference in Minneapolis this week, where 9 year old Rodrigo Sanchez Sosa was recognized as a "local 911 hero". He called 911 when his 2 year old sister fell unconscious after a seizure. Dispatcher Lori Patrick and emergency medical dispatcher Tom Polzin took the call and guided him through helping his sister until an emergency medical team arrived.
Rodrigo, Lori and Tom were all recognized as "Local 911 Heroes" on Tuesday, August 21st, in a ceremony opened by Minnesota Senator Amy Klobuchar and sponsored by AT&T. "Local 911 Heroes" is a program established in 1999 to recognize people, especially kids, who perform in an extraordinary manner using 911 when faced with an everyday crisis. AT&T sponsors these "Local 911 Heroes" Awards all across the country.
This award also personally resonates with me. I had a young niece who insisted on calling 911 when my brother was writing on the floor in pain. A local volunteer ambulance crew in rural Iowa left their homes and workplaces to come, gather him up on his farm, and take him to a hospital where his heart attack was handled.
These "small" acts of heroism go on every day, in every one of our communities, large and small. Sometimes those of us who work in government take our 911 services and operations a bit for granted, just assuming they'll always be there and will always work.
That's why these awards programs are so important, because they remind us that heroes dwell among us. And, perhaps, one of these days when one of us is in need, a "local hero" will be there to help.