Photo: Deputy County Executive and CIO of Oakland County Mich., Phil Bertolini.
County collaboration, innovation and creative thinking take a front seat when facing bigger problems and smaller budgets as demonstrated by winners of the seventh annual Digital Counties Survey, conducted by the Center for Digital Government. The survey determined how well county governments used digital technologies to become more efficient and better able to serve their citizens. Categories included new Web technologies, online self-service, IT measures for environmental sustainability and dealing with the economic downturn.
Oakland County, Mich. -- winner of the 500,000 or more population category -- started experimenting with podcasts. The response was immediate and people downloaded the podcasts by the thousands. Podcasting led the way to government blogs and other interactive forums for citizens and county employees. The Blogin Café, a blogging technology showcase at the county's Arts, Beats and Eats festival, was aimed at generating an interest in blogging by citizens of all ages. A huge success, the Blogin Café helped more than 2,600 citizens voice their opinions on a variety of topics.
"It's one thing to put a technology or service out there and it's another thing to get people to actually use it," said Phil Bertolini, deputy county executive and CIO. "With Web 2.0 technologies, you have so many different abilities to interact with your constituency. We have this whole new generation of consumers that have really grown up with these technologies and they want information and services delivered differently."
"At one time we had a 92-year-old woman come in and say 'I don't know what a blog is but I'm interested' and ended up writing her very first blog. What this showed us was that there was a definite interest in these new technologies," Bertolini said.
Roanoke County, Virginia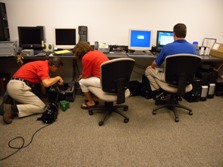 Photo: Technicians (l to r) Jack McNeil, Jennifer Chitwood and Tim Ginger are responsible for troubleshooting and maintaining Roanoke County's fleet of 1000+ computers, printers and peripherals.
Bill Greeves, director of IT for Roanoke County Va. -- winner of the 150,000-250,000 population category -- talked to Government Technology about the county's decision to use a hosted system for its customer relationship management (CRM) system.
"I think that it's becoming a much more popular trend these days to start looking at software as a service for some of our bigger, more critical systems," said Greeves. "It's still a pretty recent development because up until a couple of years ago, there were a lot of concerns about connectivity and information security. But in the last couple of years, several vendors have come forward with some really nice, secure and functional solutions."
With a newly gained confidence in hosted systems, Roanoke County also decided to host its financial system externally.
"It's a hosted system, which means we don't have to fund infrastructure costs or worry about upgrades to the applications," said Greeves.
The Digital Counties survey is great way for local governments to see what others are doing and look at some best practices being implemented nationwide. "One of the best things about working in government," said Bertolini, "is that it is not so much competitive as is it collaborative."