Connecticut AG Proposes Limiting Craigslist
Connecticut Attorney General Richard Blumenthal -- citing the "Boston Craigslist murder case" -- on Wednesday proposed new measures to hinder prostitution and pornography on Craigslist, including eliminating photos in the "erotic services" and related sections of the popular site, and requiring credit card and telephone numbers from posters. "Craigslist has responsibly assisted law enforcement officials across the nation," said Blumenthal, "I am hopeful that Craigslist will continue its cooperative spirit."
Texas, Michigan Secure New Driver Licenses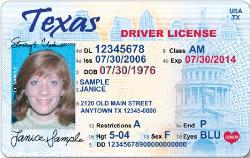 The Texas Department of Public Safety (DPS) this week announced a new driver license with enhanced security features. "The changes will give law enforcement improved resources for verifying the authenticity of Texas-issued driver licenses and identification cards, while combating counterfeiting, photo swapping, tampering and other types of fraud, " said DPS Director Col. Stanley E. Clark.
Michigan Secretary of State Terri Lynn Land announced on Tuesday that the state's drivers could begin applying for the new enhanced driver's license (EDL). The new licenses meet federal document requirements for border crossing that go into effect June 1, said Land. "The enhanced driver's license promotes the smooth flow of trade and tourism between our state and Canada and aids law enforcement in its efforts to make our borders more secure," Land said. "This is the common-sense solution we have been working for years to achieve for the people of Michigan."
Louisiana Governor Appoints Broadband Council Members
Louisiana Gov. Bobby Jindal on Thursday announced new private-sector appointments to the Broadband Advisory Council, an entity within the Governor's Office of Rural Development that serves to develop and implement a plan to increase broadband access and usage throughout the state. The appointees are Greg Elmore, the corporate Internet manager for Communications Corporation of America; Bill Oliver, president of AT&T, Louisiana; and Jacqui Vines, vice president and general manager of Cox Communications, Louisiana.
Jonah Frohlich Appointed California Deputy Secretary of Health IT
Governor Arnold Schwarzenegger last week announced the appointment of Jonah Frohlich as deputy secretary for health information technology for the California Health and Human Services Agency (CHHS). Frohlich will lead the administration's efforts to achieve statewide electronic health data exchange, uniform interoperability standards and adoption of health information technologies, such as e-prescribing.
Ohio Secretary of State Releases Election Enhancement Report
Ohio Secretary of State Jennifer Brunner -- who was given a John F. Kennedy Profile in Courage Award last year for challenging the reliability and security of electronic voting systems -- this week released a blueprint for enhancing Ohio's elections. Recommendations included enhancements to the statewide voter registration database and matching process with the Bureau of Motor Vehicles; and a streamlining of voter ID laws.
Washington State Launches Web Site for Guard Soldiers Returning Home
Washington Gov. Chris Gregoire and Adjutant General Major General Timothy Lowenberg, announced a new Families and Veterans Web site, designed to be a one-stop center for all Washington National Guard Veteran and Family Readiness services. Dedicated National Guard staff and state workers stand ready to help by providing resources that helps soldiers with job search, career development, and other programs.
Citizen Satisfaction with Local Communities Sinks With Economy, Says Study
released Thursday shows that citizen satisfaction with local communities lags well behind satisfaction in the private sector and federal government. The study, from CFI Group and Cobalt Community Research measured citizen satisfaction with 15 components of community characteristics and local government services. According to the survey, citizens are most satisfied with Fire Department (78), Library (77), and Utility Services (76). Among the components to the local community experience that citizens say require the most improvement include Economic Health (48), Local Government (56), and Public Schools (61). Among the areas citizens rated about their local government, citizens were most dissatisfied with how they believe their tax dollars are being spent (47). The lowest scoring attribute for the economic health component was the quality of jobs (45).
Study Published on Worldwide Open Source Activity and Growth
The Open Source Index, a study undertaken for Red Hat Inc., by Georgia Institute of Technology Professors Noonan and Baker was released this week. The index compares open source activity and environment across 75 countries. The global growth of open source continues to increase across the private sector, government and individuals. An interactive map highlighting country rankings is available online.
Candidate for Governor Announces on Web, Twitter, Facebook, Flickr, Etc.
San Francisco Mayor Gavin Newsome on Tuesday went to social networks to announce his candidacy for governor, using Twitter, Facebook, Flickr, and Digg. In a YouTube video, he touted the city's progress toward universal healthcare, and a rainy day fund that avoided teacher layoffs.
NASA, Mississippi, Louisiana Shared Services Center Wins Top Honors
CSC announced this week that the NASA Shared Services Center (NSSC), a public-private partnership between NASA, CSC and the state governments of Mississippi and Louisiana, won the Best New Captive Services Delivery award from the Shared Services Outsourcing Network. This award recognizes the most successful shared services organization launched within the last three years. Approximately 30 public and private sector organizations, including Fortune 500 companies, submitted applications for the top honor. The award was received last month during the 13th Annual North American Shared Services Week 2009 in Orlando, Fla.