The old permitting system in Catawba County, N.C., had been the foundation of the local land management process for a decade before county officials decided to scrap it and get a new one.
That decision came two years ago after the vendor chose to eliminate future support of the product the county used. Without the necessary software updates beyond Windows XP, officials knew it wouldn't be long before the entire system fell far behind.
"The system was not performing the way we wanted it to because it was old software," said Terry Bledsoe, Catawba County's CIO. "There was no upgrade path to get the new features we wanted, so we had to replace it."
In October 2009, Catawba County went live with a revamped system using EnerGov.Net, an enterprise land management suite by Atlanta-based EnerGov Solutions. The system overhaul in many ways was overdue. Previously, while county officials did have the ability to dispatch inspectors and handle field work, the aging system had limited mapping software and no digital storage capabilities. Building plans had to be transported in paper form, which took time and slowed productivity. Even the smallest building requests required a lot of extra legwork to push the process along.
"It really amazed me how many steps there are in even the simplest permit," Bledsoe said. "You want to build a small house out here -- nothing special, just a house -- but there are all kinds of steps. You can't just walk in, get a permit and walk out."
The county's new system streamlines the permitting process by connecting all land management departments to a centralized network. Supported by $600,000 in local project funds, the system integrates electronic plans review and geographic information system (GIS) platforms. The previous system had GIS maps, but they were static, limited and new information had to be put in manually. This new GIS system is live. Anything that's entered into the GIS is automatically available within permitting services, and vice versa. Users can access live maps and see the placement of any other buildings on the targeted lot, and data can move electronically from city to city.
"GIS forms the foundation of our system," said Garth Magness, regional business development manager for EnerGov. "It allows us to connect a number of processes as well as store, catalog and retrieve information geographically. It also enhances agency services and transparency for citizens, contractors and businesses alike."
A Paperless Trail
In the past, building plans would be delivered to Catawba County's Permit Center in Newton, N.C., and then hauled 11 miles northwest in a pick-up truck to the Plan Review Office in Hickory, N.C.
These plans -- copies of civil, plumbing and electrical drawings in 36-inch-long rolls -- ranged from a few sheets to upward of 80 sheets for the big projects. For instance, two and a half years ago, the permit center received a massive delivery from retail chain Target of plans for a 1.6 million-square-foot distribution center.
"They actually rolled the plans in on carts," Bledsoe said. "Anytime you have a huge plant go in, you have thousands and thousands of documents that go with it. We had to store those things too. All of that is just a big, huge cost and burden."
The new distribution center officially opened in Newton last fall around the same time that the new permitting system went live. In 2007, before the system conversion began, county officials spent six months writing Requests for Proposals and reviewing vendors. Overall, even with only one person devoted to converting data, Bledsoe said, it was a "smooth process."
Catawba County has long been recognized as a frontrunner in the region in the provision of e-government services, Magness said, so the project was a logical step on
the public side. For developers, the Web-based system simplifies the process of tracking a permit request and allows them to make online requests for inspections instead of calling to ask for one. Also, applicants can go online and see whether their specific projects have been given the green light or read the reasons why they haven't been approved -- another step that saves time and excess paper.
"Instead of having all this paper flying here to there to yonder and back," Bledsoe said, "now it's electronic and that cuts down on a lot of errors."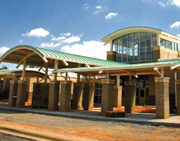 Teambuilding
For a long time, county officials say, the departments involved in the county's land management process -- permitting, zoning, planning, tax, GIS, code enforcement -- didn't work together.
Indeed, they worked on the same projects in the same region, but the old system didn't allow them to connect or coordinate with one another in any concerted way.
"They were each on their own little island," said IT project manager Temple Lawing, "but nobody really collaborated together. Now we're working with many different departments and getting everybody on the same page. Every module touches each other now."
As part of the process, some 150 people had to be trained on the new land management software, which streamlines communication between the various departments involved. Catawba officials have already started planning to connect with the county's jurisdictions, which may have their own zoning requirements.
"It's a big team effort," Lawing said.
The new system offers flexibility and control that the users have never seen before. In years past, if they wanted to make any adjustments to the old system, they had to ask the vendor to make the changes. That's no longer the case, said David Smith, supervisor of the county's permit center. Now, users have the ability to customize everything in the system to make it work exactly the way they want without the extra step.
Of course, as with any system overhaul, it will take some time for users to get familiar with the new technology and adjust to the software. In this case, they must learn to navigate the new centralized system after spending 10 years with the old one.
"Right now, we're still in transition," Smith said. "Users were very comfortable with the old system. This one is totally new, it's different. But a lot of them are starting to come around."