If Garrett Olsen takes his eyes off the computer screen for one second, he could die.
It wouldn't be the first time. In fact, if you ask Garrett, who's 11, how many times he's died already, he'll give a casual response: "In this game? About a million."
It's Saturday afternoon, the middle of the fall, warm enough to play outside. But Garrett and his friend Chandler would rather be at the Folsom, Calif., Public Library, absorbed in a world of medieval knights, castles and keys - the name of the game is RuneScape.
Right now, they're talking to each other, trying to find the secret door that will take them to the next level. But they move with caution. If they open the wrong door, they'll have to start over. Again.
The boys go to the library often to play this free online game, but Nov. 14 was special because they were counted among the 31,300 people who flocked to libraries across the country for National Gaming Day. Only in its second year, the annual event sponsored by the American Library Association more than doubled its numbers from 2008. More than 1,360 libraries registered to participate, including libraries in Canada and Japan. Morocco expressed interest for next year.
The numbers don't lie: People love playing games at libraries. But this is more than just a once-a-year phenomenon. In the past decade, technology has taken the age-old library model to the next level. By adopting interactive, gaming trends, modern-day libraries help open doors to the world of virtual, hands-on learning in ways never seen before.
National Gaming Day, organizers say, offers a glimpse into that world.
"The event was designed to promote awareness that you can actually play at the library and that it's OK," said Jenny Levine, strategy guide for the American Library Association. "There's this stereotype that you have to be quiet, people will shush you and you have to sit by yourself at a table. That's not true anymore."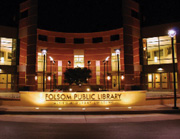 Photo: The Folsom Public Library Georgia Murray Building opened to the public in 2007, followed by the Norman R. Siefkin Public Library in 2008. Together the new libraries offer 33,000 square feet of space and state-of-the-art services. Photo by Craig Learoyd.
'The Last Noncommercialized Space'
Since the beginning, libraries have been archives for the sacred texts and published records of the world - from papyrus scrolls in ancient Egypt and clay tablets at the Royal Library of Ashurbanipal - to the endless rows of fiction and nonfiction books. These structures provided storage to literary works and reference materials, but also acted as a community anchor, where citizens from all walks of life could find common ground in the pursuit of knowledge.
As the digital age swept the country, it was a question as to whether libraries could survive the new millennium. In modern societies, where the Internet puts information at your fingertips, and you can download books with the click of a mouse, would public libraries still be relevant?
The answer - a resounding yes - resonates from the streets of Philadelphia, where the community united last fall to save 11 branches of the public library system from closing due to the city's financial crisis. After residents flooded courtrooms and wrote letters to elected officials, the state Legislature acted on a budget request that kept all 54 branches of the Free Library of Philadelphia open.
Such an outpouring of support reflects the significance of the library system in American cities. "It's the last noncommercialized space left in the community," Levine said.
Adapting and Adopting
Community support underscores its value, but the longevity of the public library system also can
be attributed to its consistent effort to think outside of the books. Last decade, libraries expanded their collections to include other media resources, such as CDs and DVDs. In the past 10 years, libraries have kept up with technology trends by bringing in video games that help improve information literacy and collaborative learning.
Now you might walk into a library and see kids playing Guitar Hero to learn about and play popular rock 'n' roll records; or RuneScape, where players roam a medieval fantasy realm with customizable avatars, searching for treasure; or SimCity that teaches the ins and outs of urban development. Proponents agree that such games not only force students to use critical thinking skills and solve complex problems, but also provide interactive, visual stimulation that they can't get with a math game.
In addition, the social component that comes with libraries enhances the gaming experience in ways kids may not find in any other public place. They're not as restricted to time limits as they would be in a class. Video games encourage students to socialize and interact with others rather than isolating themselves.
"They want to play it as a multiplayer game and get on the Web, talk about it and figure out statistics," said James Paul Gee, the Mary Lou Fulton presidential professor of literacy studies at Arizona State University. "Games have turned out to be an inherently social experience."
Garrett's mother, Kathryn, has seen the effects firsthand. From playing video games at the library, she said, Garrett has met new people and has become more interested in reading.
It also unites players in a unique way. For instance, Levine said, kids are more willing to resolve disputes on their own rather than getting kicked out the library for fighting.
In reality, the convergence of the library system and the gaming world isn't that outlandish; they have a lot in common. Both are vast worlds ready to be explored. And consider this: When gamers get stuck on a level, many seek help by reading a walkthrough guide online or plugging in a cheat code.
At libraries, when browsers get lost, they also get help from someone who knows where to go and how to get there: a librarian, or as Levine says, "the human cheat code."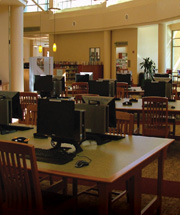 Photo by Craig Learoyd.
Literacy On Board
But the gaming movement goes beyond computers and video game consoles. Many libraries keep assorted board games available for use. Last October, Folsom Public Library launched a six-week chess club for students.
In New York, the School Library System of the Genesee Valley Board of Cooperative Educational Services developed a board game library to provide support for 22 rural districts. Funded by the state, coordinators have amassed a collection of nearly 100 titles - all tied to state curriculum standards in math, English and social studies.
"We weren't sure how to get it into the schools," said Christopher Harris, coordinator of the School Library System. "The schools are a little funny sometimes about games. I like to joke that we've taken away recess from kindergarten and replaced it with algebra."
Traditional American board games require minimal engagement: Players roll the dice, move their game pieces, wait for their next turn, and so forth, said Brian Mayer, a library technology specialist for the School Library System.
With this program, the library system made sure to buy games that tie into the curriculum and keep kids actively involved. One particular game re-creates the 1960 U.S. presidential election. Players have cards that look like the front pages of newspapers with historical facts about John F. Kennedy and Richard Nixon.
"They look like Pokémon or Yu-Gi-Oh cards except they're all about the election," Harris said. "Someone keeps track of electoral votes, media relations, issues for debates. Now the students are really engaged in the experience of running and being a part of an election."
Gaming Requirements
No matter the type of game, the same strategies that promote reading literacy should be used to enhance media literacy - specifically mentorship, said Gee, author of numerous books including What Video Games Have to Teach Us About Learning and Literacy, which offers 36 reasons why good video games produce better learning conditions than many of today's schools.
Research, he said, shows that poor kids use computer games as much as middle-class kids, but get less out of it. Therefore, libraries can add that missing piece by working with schools or providing the additional support needed for comprehension.
"If you're reading a book and not really thinking or talking about it, it's not really good for learning," he said. "The same is true for a computer game."
Although much of the opposition has died down, Gee said, many of the objections to educational video games came from baby boomers who couldn't grasp the concept of learning how to lose in order to win.
"For baby boomers, it's tough because you have to learn by trial," he said. "We think failure is a bad thing, but in games failure is a good thing. If you're going to be an engineer, you better learn to fail before you build a bridge. Good science requires exploration and risk-taking."
Not convinced? Just ask Garrett Olsen how many times he's died in RuneScape.