Awards and Honors
New York Terrorist Plot Arrests Bring Special Thanks
The arrests last Wednesday of four men -- charged with conspiracy to use weapons of mass destruction in the United States and conspiracy to acquire and use anti-aircraft missiles -- involved the cooperative efforts of the United States Attorney's Office for the Southern District of New York, FBI, NYPD, NYSP, Newburgh, N.Y., Police Department, town of New Windsor Police Department, United States Air Force Office of Special Investigations, and the New York State Office of Homeland Security. Seventy investigators from those organizations were honored Friday in a ceremony at New York City Hall. "We know we live in very dangerous times," said Mayor Bloomberg," but thankfully we have an excellent system of defenses to protect us. And in the first line of these defenses are our superb law enforcement officers, including those we honor today."
San Carlos Wins Award for Carly The Virtual Receptionist
The City of San Carlos, Calif., announced Friday that it has received the National 2009 Technology Achievement Award for Web services from the Public Technology Institute for the city's Innovative City Hall Virtual Receptionist named "Carly." A budget shortfall required the elimination of the City Hall receptionist, and Senior Systems Analyst Jasmine Frost developed the virtual replacement, expected to save about $90,000 per year.
Justice
Colorado Will Collect DNA From the Accused
Gov. Bill Ritter last week signed a new DNA-collection bill into law, allowing police to take DNA samples from suspects arrested for felonies. All states allow collection of DNA from convicted felons, but 16 states now allow the forced collection of DNA from those accused of crimes. A defendant who is found innocent in Colorado or whose charges are dismissed may apply in writing to have the DNA sample destroyed.
Oklahoma to Collect DNA For Misdemeanors
Oklahoma Gov. Brad Henry last Wednesday signed Senate Bill 1102 which will add misdemeanors for which convicted criminals must submit DNA samples to a database kept by the Oklahoma State Bureau of Investigation. The law now covers crimes such as assault and battery, domestic abuse, stalking, resisting arrest, pointing a firearm, negligent homicide, destruction of property, breaking and entering a dwelling place, and causing a personal injury accident while driving drunk. Henry said the measure adds misdemeanors that are often precursors to violent crime.
American Samoa Launches Sex Offender Registry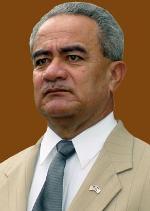 American Samoa Governor Togiola Tulafono (pictured) last week established the Sexual Offender Registration Notification Act (SORNA) Working Group and appointed nine members. "I herewith establish the Sexual Offender Registration Notification Act (SORNA) Working Group specifically created to assure compliance with SORNA requirements and to provide counsel and input into strategic planning, development and implementation of American Samoa's Sex Offender Registry," said Tulafono in a letter.
Communication
New York City Expands Notify NYC
New York City Mayor Michael Bloomberg -- who last week announced that the first responders' New York City Wireless Network (NYCWiN) was operational citywide, also announced that Notify NYC, the city's public notification program, will expand citywide on May 28 via e-mail, text message and voice message to home, office and cellular telephones. Alerts sent through Notify NYC will also be posted at www.nyc.gov and distributed to call takers at 311 and 911 to ensure that information the city provides is accurate, timely and consistent.