conclaves likewise helped the Coast Guard organize and coordinate the restrictions and eventual closings of waterways.
Such closings require delicate synchronizations. With 15,000 ship movements in and out of the Mississippi River each year - which is one waterway among many - authorities must work in close cooperation when a major event strikes, Osborn said.
"One of the biggest issues in shutting down navigation is whether you can get pilots out to the ships to bring them in, and what the threshold is when it becomes too dangerous to have that tug traffic still going out there," Osborn said.
Bridges and locks can't be shut down willy-nilly; things must happen in a specific order. In providing timely weather information, NOAA helped determine that order. "We helped provide a single, very focused, very local, very expert authoritative voice of information that everyone could hear at the same moment, on the same phone call," Osborn said.
Those daily calls helped shape emergency response within changing circumstances. "You can't expect to shut things down and have people safely leave the coast in a time frame of 24 hours," he said. "Ships go only so fast, barges and tugs go only so quickly. It requires several days of advance operations to make that happen."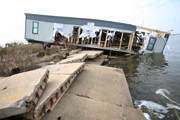 NOAA put its newest technology to use in the shadow of Ike. "This storm season was the first operational year when we used full computer-based Web briefings to outside entities, and they were tremendously well received," Osborn said.
Not only could Web graphics convey information, they also made it possible to convey data accurately to others in the chain. "Now the information from those briefings could be e-mailed so that those participants could then share that throughout their own organizations," he said. "It made the community incredibly effective."
If Osborn can vividly recall the storm's beginning, he's perhaps even more alert to the end, the moment when NOAA's work was effectively finished.
"About eight hours before Hurricane Ike made landfall, we had just finished the last conference call for the night," Osborn said. "As we hung up the phone, we realized right at that moment that literally everybody had shut down. There was no port from Mobile, Ala., all the way to Corpus Christi, Texas, that was open. Every tug, every barge, every deep draft ship had come to a stop. It was amazing to me. The information and the updates we had given to all these people had essentially led to the complete stop of everything within the Gulf of Mexico."
There's no doubt this saved billions of dollars and an untold number of lives along the way.
Putting Patients in Beds
Hurricane Ike forced the evacuation of nearly 8,000 people in Houston alone. Among them came an inevitable population of the old and ailing, many of whom needed hospital beds. Some hospitals had space; others did not. The last thing anybody wanted was ambulances wandering the roads, trying to match patients with beds.
"It's really about balancing the supply versus the demand and trying to match the two in the most efficient way possible," said Andy Nunemaker, CEO of EMSystems.
The company's patient-tracking systems operate in major cities nationwide. Its flagship product is EMTrack, a Web-enabled, browser-based system that tracks patient movements, reports transport activities and allows cross-jurisdiction management, among other functions.
In the case of Ike, the system was used in conjunction with EMResource - a common operating picture as described by the National Incident Management System - that delivered a comprehensive and flexible exchange of information between emergency medical service providers, hospitals, health-care entities, 911 dispatch centers and emergency operations