Photo: Steve Fletcher, CIO, Utah. Photo by Kelly LaDuke
---
SACRAMENTO, Calif. -- For government agencies, cloud computing isn't just intriguing; it also should be strongly considered, according to two public-sector decision-makers who recently made the leap, speaking at the Managing Technology conference Wednesday, March 17.
Utah CIO Steve Fletcher and Kevin Crawford, assistant general manager of Los Angeles' Information Technology Agency, answered questions from the public and private sector related to cloud-hosted e-mail and Web applications. With nearly all states grappling with budget cuts, more are looking at using IT differently to save money.
Fletcher and Crawford shared their experiences and gave advice on implementation and challenges faced. Here are some of the highlights:
o What aspects of cloud computing should be considered before an implementation?
Fletcher, who pushed Utah into starting a "private cloud" hosted by the state for e-mail and Web apps, said there are four main points agencies should look at first: security, data ownership, transferability and disaster recovery. People in government are generally skittish about trusting a private company with the public sector's data, Fletcher said, but with ongoing needs to reduce costs and improve services, cloud computing provides IT services in a cheaper, more effective solution.
o What did elected officials want to know before jumping on board?
When L.A. was considering switching e-mail services from GroupWise to Google's Gmail, Kevin Crawford and his colleagues were flooded with questions, he said. They mainly focused on "who can see what, when, why and where?" Officials saw the proposed change as either a money saver or threat to public safety, he said, and he had to explain the "nitty-gritty" details of the contract to ease their minds.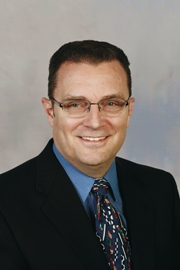 Photo: Kevin Crawford, deputy CTO, Los Angeles/Photo courtesy of Kevin Crawford
o How is sensitive data handled?
With Gmail now being piloted by a percentage of L.A.'s employees, data is handled better than could be done internally, Crawford said, as it's chopped up into multiple parts and then encrypted. One would require an application to find the parts and decrypt it, he said. The only people who could see the data would be "super administrators" within the city. He also explained that the contract with Google is very detailed on security. Data is owned solely by the city, so if Google employees read e-mails, it would be a breach of the contract, and the city has an audit clause to ensure there are no security breaches.
o How does an agency determine e-mail size capabilities?
Crawford said GroupWise didn't have enough capacity and the city didn't maintain the system as well as it should have. When vendors submitted their RFPs to Los Angeles, Google could hold up to 25 gigabytes per user, Crawford said. That was enough to migrate a city worker who had maintained 15 years' worth of e-mails, he said.
o Why switch to cloud computing?
There have to be very compelling reasons, such as major cost savings or ridding an agency of an old, poorly maintained e-mail system, Crawford said. And cost savings likely won't be realized immediately, he said. "It's a tough process," he said, and an agency may not get a return on its investment the first year. It may take until three years after implementation for results to be seen.
o What apps may or may not lend themselves to cloud computing?
One of the easiest is e-mail, Fletcher said. What might not be a good idea to launch into the cloud is sensitive data like financials and intellectual property, he said. But with states being required to make more of their information publicly available, including e-mail, privacy concerns in that area are irrelevant, he said. Public-sector workers should always watch what information is being transmitted via e-mail, Crawford said, to ensure sensitive information isn't being sent that way.
o What has L.A.'s working relationship with Google been like?
With the ability to audit everywhere the city's data touches -- which is written in the city's tightly written contract -- L.A. is trying as much as it can "to not keep a thumb on Google," but have a working partnership, Crawford said.