Photo: Carol Broos, music teacher, Sunset Ridge School, Northfield, Ill.
Carol Broos offers no rubrics in the technology classes she teaches at Sunset Ridge School in Northfield, Ill. Her classroom's learning environment is a free-for-all -- students do whatever assignments they want. All her students receive A's at the end of the academic quarter, whether they complete one project or 10.
Broos doesn't even have professional training in technology. She's a music teacher, and frequently doesn't even know how to operate the software she provides students. Her technology class is connected to her music program - each student learns to use music composition software. However, projects go far beyond that realm, and into Web design and graphics programming.
Apparently her unorthodox methods are effective. Many of her students work above their grade level and win national technology awards. Broos recently won the 2008 Golden Apple, a teaching accolade viewed by many as the most prestigious in the Chicago area.
Broos insists a traditional classroom environment in which the teacher gives the same lesson to the entire class can cripple technology education. She begins each class with five minutes of instruction; then students work on whatever projects tickle their interest.
"I don't believe in rubrics because they're too confining for my gifted kids. If I had a rubric, my gifted kids would totally slack [off]," Broos said.
Her approach enables speedy learners to dart straight to projects that match their abilities. High-achieving students typically need little help, which gives Broos extra time to focus on other children. By students working at their own pace, they produce better work, Broos said. The focus on projects that students pick also propels that advancement, she noted.
Broos contends that her teaching approach does a better job of stimulating students' interest in technology careers than a traditional learning environment. This could have implications for the technology work force as a whole, as the Computing Research Association's 2008 Taulbee Survey of Ph.D.-granting computer science (CS) and computer engineering departments reported an 18 percent drop in newly enrolled CS students over the prior two years. This decline will likely hit state and local governments hardest because CS graduates tend to favor private-sector jobs. A larger pool of technology graduates would give state and local governments a better shot at meeting their IT work force needs.
Staying Focused
Educators commonly struggle to increase the amount of one-on-one instruction in the classroom. For a teacher, like Broos, who monitors vastly different student projects all at once, overcoming that challenge is mandatory. Broos found a solution using headsets. All of her students wear them, and their computers face toward the classroom walls so she can see all activity from her central station. The students -- fourth- through eighth-graders -- work in pairs.
"Their heads are faced in the direction of the wall. Even the ADHD [attention-deficit hyperactivity disorder] kid tends to be very focused. The only thing they can really look at is their screen," Broos said. The students don't hear the clatter of the classroom, so they sit down and work.
Through her headset, she instructs students who need help by viewing their work from her monitor.
Individual Tracks
The students' freedom to achieve their academic interests has produced results in Broos' classroom. Seventh-graders Henry Bacon, 13, and Frank O'Meara, 12, won digital education awards at the Center for Digital Government's 2008 Best of the Web awards ceremony. The boys developed Lazertron.net, a Web site that offers games and tutorials to teach their classmates how to program using Adobe Flash.
"We just totally fell in love with Flash, and we wanted other people to have the same experience as
us," Bacon said.
His partner O'Meara agreed.
"There are so many things you can do with Flash. You can do games and animation. The opportunities are endless," O'Meara said.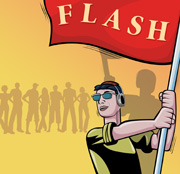 While the boys learned Flash in Broos' classroom, she didn't teach them a thing about it. "I have no idea how to use Flash. I work on my own programs. We have different go-to people in the classroom. These two guys are the go-to guys for Flash," Broos said. "Since people are working on different things, they can see what all of the other kids are working on. They tend to say, 'I want to learn how to do that.' It sort of spurs them ahead."
If Broos can't answer a student's question, the pupil is instructed to look for the information in online forums. Increasingly technology literacy requires self-directed learning, contends Broos. "Technology is tripling daily. We, as teachers, are not going to be able to know all of it. All of these kids are on Facebook. No one taught them."
Robby Hauldren, 12, another student in Broos' class, learned Flash using the tutorials on Lazertron.net. Now Hauldren is assuming operation of the Web site because Bacon and O'Meara moved on to other applications.
"I'm working on an Apple program called Quartz Composer," Bacon said. "It's what professional graphics designers use to make 3-D compositions. You can make a 3-D game, or just take images and write code to make them do stuff. Our games right now [on Lazartron.net] are more one-dimensional. It's complicated software for somebody our age."
Kendall Starkweather, executive director of the International Technology Education Association (ITEA), cheered Broos' willingness to bring applications she doesn't know how to use into the classroom. "If we limited education to what the teacher knew, we'd limit all of the creativity and brainpower the student might have," Starkweather said.
Potential Pitfalls
Broos' teaching method, which Starkweather admiringly called "management of learning," doesn't use a systematic grading system -- every student gets an A. But this atypical grading system concerns Professor Michael Daugherty, the department head of Curriculum and Instruction at the University of Arkansas.
"The student needs to earn the grade. I'd be much more comfortable if she said this was a pass-fail class. You're going to find that students will take advantage of that," Daugherty said. Though he said he approves of Broos' instructional system, her decision to give all students A's makes the strategy perilously similar to discovery learning, a hotly disputed method among education researchers. With minimal instruction, discovery learners problem-solve by drawing on their experience and knowledge. They interact with their environments by exploring and manipulating objects, wrestling with questions and controversies, or performing experiments.
"There are some [discovery learning] classes where kids just go in and play. You have to really monitor what's going on to make sure there's real learning taking place," Daugherty said.
Broos said that isn't a problem in her classes. "Over the years, I've had one slacker. I try to motivate kids to work. My kids work unbelievably. They don't want to be off the computers. If I see they're slacking, I'll tell them to take off their headsets and sit in the middle of the rug. It's almost like taking food away from them. They know they've got a good deal in here," she said.
She does have general expectations. For example, she asks fifth-graders to compose a song for the fifth-grade band using music notation software Sibelius. She also wants them to produce a Web site with blogs, podcasts, pictures and musical compositions. However, a student still receives an A if he
or she just does only parts of those projects.
Guidelines are vaguer in her sixth-grade class, where she requires a "spectacular project."
"They can do anything they want, but it has to be spectacular, and it has to be something someone else has never done. That was where Henry and Frank came up with their [Lazertron.net] Web site. They have to come up with something that totally wows me," Broos said.
Here is another point where some education experts who are generally supportive of Broos' method part company: Starkweather and Daugherty suggest she incorporate more-specific, non-negotiable requirements.
Daugherty said she could easily align her open-ended learning approach with the ITEA Standards for Technological Literacy for K-12. Students could still pursue projects of their choice, but those projects must expose them to a specified minimum of skills. Starkweather said it's likely that Broos' students already satisfy the standards. Both experts cautioned that teachers who use Broos' method could have trouble defending its effectiveness to school administrators without systematic proof of what learning occurs.
If someone inquires about the abilities of Broos' students, she can point to others besides Bacon and O'Meara. One student excels at Adobe Photoshop. Others use Google SketchUp to construct fantasy homes and cities. Two fourth-graders who are interested in hunting are constructing a Web site that details hunting trips they took with their fathers. However, Broos can say little about what students know collectively after leaving her class because the skills required to complete the projects vary. Still, Starkweather and Daugherty acknowledged that while Broos' technology education strategy lacks systematic proof of its efficacy, the anecdotal evidence is difficult to ignore.
Futile Restrictions
Broos believes much of the restrictive culture found in technology education is fueled by laudable, but futile concerns about what children can view on the Internet.
"We have a lot of administrators who are worried about 'the two P's': predators and porn," Broos said. "These kids, even with filters, can get to both. We have to teach them how to deal with that, and not say, 'I'm going to protect you.' We're not going to be able to protect them. People that think we can -- forget it."