Some 225 organizations have now either been granted or applied for authority to issue alerts through FEMA's Integrated Public Alert and Warning System (IPAWS). That's 225 out of thousands of local, state, and federal agencies eligible to apply to send alerts through IPAWS, including the new cell broadcast system.

Where are the other applicants? We may have found a clue through a promotion conducted by an alerting vendor. The Asher Group, which sells a product called Hyper-Reach, offered a grant for public safety organizations to receive access to its service for originating IPAWS alerts. Asher is one of some 40 companies that have tested their products for sending messages to the cell broadcast system by participating in the IPAWS-OPEN initiative. (You can find a list here.)

Analysis of the grant applicants is interesting. Asher's Jim Veilleux told us they received 62 applications for the grant. 24 of the applicants said they want to use the cell broadcast system (officially the Commercial Mobile Alert System or CMAS), but have not applied to FEMA yet. Another 33 applied, but said they really do not know much about CMAS. Four have have been awarded alerting authority status; one application is pending.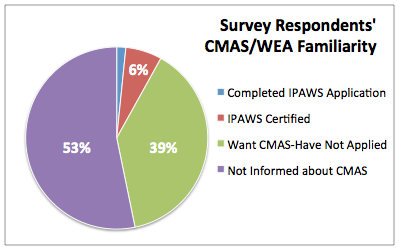 Granted, this is not a scientific survey. But, the results help illustrate that there are still quite a few agencies that either don't know about IPAWS and CMAS or know about it and want it, but have not applied to participate.

The application process is relatively simple. Four steps are involved, which include getting approval from the state and going through a short, free on-line training course through the Emergency Management Institute (course IS247). A video on Galain's web site describes the process.

Why haven't more agencies signed up? Could it be insufficient outreach? Not enough value offered? Lack of time to commit to the application process? Governance questions? Lingering questions about features and capabilities? Something else?

We'd like to hear your thoughts. You can complete a quick on-line survey below, or send an email to rick.wimberly@galainsolutions.com.

All the best,

Rick
615-771-8000