In summer 1998, Sacramento County, Calif., and Phoenix, Ariz., entered the world of public-sector enterprise resource planning (ERP) with their eyes wide open. Each needed to replace disparate legacy systems in various departments with an all-in-one enterprise system that integrated individual business processes and their data. Ten years later, the two governments who led the way for local government ERP provide insight on how they did it and what they've gained. Both purchased solutions from ERP software giant SAP, and they're two of the company's oldest local government customers.
"These are really the first two SAP public-sector customers in the U.S. Sacramento County and the city of Phoenix, in my opinion, they're really on the leading edge of the rise of platform," said Rod Massey, vice president of SAP's Global Public Sector.
Both jurisdictions' deployments are still going strong.
Time for Change
"We had a lot of legacy systems, mainframe systems that did various components of our business. We had a purchasing system that was vended, a financial system that was vended and an HR system that was vended. And they were from three different vendors," said Michael Connelly, an IT manager in Sacramento County's Office of Communications and Information Technology (OCIT). Connelly wasn't there for the original implementation, but he currently manages personnel who perform system upkeep. "These were older legacy systems, and so we thought, rather than just spending a lot of money trying to bring these into compliance, why don't we put that money to use instead and bring in a newer system and maybe something that integrates all of these pieces?"
And that they did. According to Connelly, the move to bring ERP into county government was spearheaded by business units that wanted to replace end-of-life programs that might not function in the new millennium. They also wanted to streamline data transfers between departments.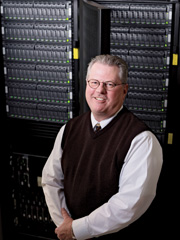 "If you have separate systems, somehow you have to link the information from one system to the other. Things don't always translate right. Things don't always work the way they should," he said. "And inevitably, your systems are out of sync. They have different data in them. Transactions don't happen that you thought should happen and so forth. With an ERP system, it's all integrated. So purchasing feeds finance, HR feeds finance, finance feeds purchasing."
The county shortened its hiring process by two weeks after the deployment. Sacramento also eliminated the distribution of paper reports, which used to take 80 hours.
Photo: Michael Connelly, IT manager, Sacramento County Office of Communications and Information Technology
But the government didn't only implement the solution to save time and manpower hours -- a threat loomed on the horizon. Y2K was coming, and as early as 1997, the government wanted to prepare for it. Many people worried about applications that could only handle 20th century dates beginning with 19. How would these programs handle newfangled 21st century dates starting with 20? The county wasn't waiting to find out.
"There were several systems that needed to be upgraded for Y2K, and we came to the realization here at the county that, rather than try to upgrade these, in some cases, nearly 15-year-old systems, maybe it would be more cost-effective to upgrade to an ERP system, which really consolidates things and integrates things," said Jim Hicks, principle IT analyst for the operations server support department within the OCIT.
According to Craig Rader, a Sacramento County purchasing agent, the county purchased the system in 1997 and implemented the first phase, which included financial, purchasing and inventory, in July 1998. Following that, the HR module was deployed in January 1999. Since the 1990s, the county has