used more modules, but has yet to utilize the ERP's full functionality.
"So even though we might not be using all the modules, we can implement them at any time because, my understanding is, we own the licensing for everything," Rader said.
Sacramento organized its ERP into two main systems: COMPASS -- Comprehensive Online Management Personnel and Accounting System for Sacramento County -- which provides online management of personnel, accounting, procurement and inventory, and FOCUS -- Fully Online Customer Utility Billing System -- which handles utility billing. In Connelly's estimation, both programs span about 44 departments and 1,500 employees.
Hicks leads the team that manages the ERP's operating system and its interface with the back-end Oracle database and the physical servers that support the whole setup. Connelly's team handles the modules at the application level and configures how they operate and communicate with each other. The latter team works with county departments when they need to modify or augment their applications.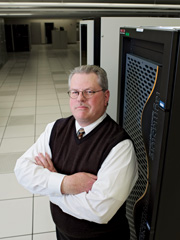 "A lot of paperwork and forms were eliminated," Connelly said. "Obviously some business processes were shortened, but probably the biggest advantage is the elimination of redundant information and the integration that you get by each part of your business feeding the other parts."
County departments can quickly generate reports on expenditures to monitor their activities and purchases because the ERP system stores the data. Reports that used to take 10 days to produce can now be immediately produced and available through workflow mail systems. Before the ERP system was deployed, three county employees spent three days each month making labor and pay calculations, but now these calculations are done automatically.
A Wealth of Benefits
ERP also made a big difference in how employees get their work done in Phoenix -- Arizona's capital and arguably most well-known city.
"What it has allowed us to do is make better decisions and rapidly assess where we're at," said Tammy Ryan, management services administrator of Phoenix's Water Services Department. "We can actually go right into the system, find out exactly to date how much we've spent. You can go do immediate analysis on your electricity usage or your electricity costing."
This is important in Water Services, where people must know how much electricity treatment plants use and how much money is spent on chemicals. ERP tools make rapid analysis a convenient technological reality. And Phoenix, just like Sacramento County, also benefits from speedy report creation.
Before the city's 1998 SAP implementation, the municipal financial system wasn't the user-friendly application it is today. Previously employees pulled up reports by microfiche and prepared entries on paper, and Ryan doesn't even recall accessing the system by computer like people can now. She doesn't think Phoenix would be able to function in today's high-tech environment without ERP.
"You would have had to have [gone] to a system like this," she said. "I don't think, with people needing real-time data, that you could have used the old system we had where you waited at the end of the month and did batch processing. I suppose we could have, but you would have been really slow in reacting, and that's just not the world we live in today."
Phoenix began its ERP journey in the late 1990s with similar concerns to Sacramento County's -- Y2K and older systems with low-integration functionality. The government hired a consulting firm to perform a risk analysis to assess the city's needs and what solutions could help. Phoenix purchased the same product Sacramento did, which was named SAP R/3 at the time. The city's Finance Department manages the system.
"We had a lot of challenges in trying to get