people to let go of these niche systems that they had in their departments. So that was a challenge, to make people feel comfortable enough with the central agency that we could provide their needs," said Deputy Finance Director Susan Perkins.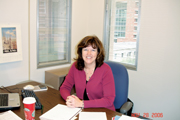 Although Finance manages the system, she estimated that around 30 departments use it for their own needs when necessary, including accounting, bill paying and inventory management functions. The city still uses PeopleSoft for HR payroll in a separate system from the SAP software. Perkins estimated that about 3,000 employees use the ERP system compared to the some 900 who started using it right after the initial 1998 go-live date. This increase in users is due to the system being deployed to more areas over the years.
Photo: Tammy Ryan, management services administrator, Phoenix Water Services Department.
Case in point: the Aviation Department. In 2000, Phoenix began the ERP rollout there and finished after 18 months, according to city employee Jan Mueller. Today she's an administrative assistant for the Metro Facilities and Energy Management Division of the Public Works Department, but back then, she worked for Aviation and played a role in the SAP implementation.
"At the airport in 2000, it was a transition trying to get foremen used to being in the field to track their work, to sitting in front of a computer to track their work. So that cultural shift was a little bit difficult to address," she said. "But it really was very successful out there. I think it still is. It's so simple to run reports."
Now the system's so ubiquitous that it's hard to picture any Phoenix citizen who hasn't been affected by it. The ERP solution stores information about city buses, including make, model and year, and a fleet-management module tracks how often oil and air conditioning service should occur. City personnel also use it to track information about police radios, light poles and traffic-signal equipment. The system manages the deployment of street signs on city roads, and space and rental areas for concession shops in the Phoenix Airport System.
And the Trend Grows
SAP's Massey believes ERP use will grow in the public sector. It'll likely have to -- citizens expect greater, speedier service from their local governments, and agencies will be forced to comply. This was the main reason why San Buenaventura, Calif., recently purchased an ERP system from Agresso, an ERP-providing subsidiary of the Netherlands-based company Unit 4 Agresso.
Most people know San Buenaventura as Ventura, home of great Southern California surfing spots. The city's government is currently implementing its own ERP system to replace a 25-year-old back-end system that won't support e-government solutions city officials want to deploy.
"It didn't have a decent relational database underneath it," said John Emerson, senior IT executive for Ventura. "When you put in an e-government platform, you've got to have a lot of things, like an e-payment type form. You've got to have a lot of components, and it didn't have any of those basically."
The previous system was custom written by the city and became functionally obsolete. Emerson and his team began the Agresso implementation in November 2007 and expect to finish by summer 2009. They've already deployed numerous modules, including those for general ledger and purchasing. Emerson said Ventura paid about $1.2 million for the ERP software and consulting.
"Look at your total cost," he said. "Just don't look at the upfront cost, but look at the long-term costs. Having an ERP -- the upfront cost is just the beginning, then you've got upgrade costs and you've got to bring in consultants."
Phoenix and Sacramento County also brought in consultants as part