(Editor's Note: A three-part interview with Gov. O'Malley can be seen in our video section)
When Rudy Giuliani became mayor of New York City in 1994, he looked to then-New York Police Department (NYPD) Commissioner Bill Bratton to help devise a cutting-edge tool to stamp out crime in all its forms. Bratton consulted Deputy Commissioner Jack Maple, who achieved significant success reducing crime by analyzing crime statistics during his tenure in the NYPD's transit division. To aid Giuliani in his anti-crime quest, Maple and Bratton developed CompStat - a performance management tool that also used GIS to map crime and predict where it would occur. CompStat helped Giuliani deliver on his anti-crime platform, and the CompStat model has since been adopted by police agencies around the world.
Moving to Baltimore
By 1999, New York City was hailed as the premier example of how to wipe out crime in a metropolis. About 200 miles southwest, however, Baltimore had earned the unwanted reputation as one of the nation's most crime-ridden cities. In addition, urban decay and a population exodus had transformed the once-vibrant city into a shell of its former self.
That same year, a Baltimore councilman named Martin O'Malley ran for mayor. He delivered an anti-crime message reminiscent of Giuliani's. O'Malley went further, pledging to not only cleanse the city of crime, but also to restore the city's health and environment. After a landslide victory, O'Malley worked quickly to adopt CompStat for Baltimore. This time, the performance management and mapping technology would not only deter crime, but would improve government service delivery in general.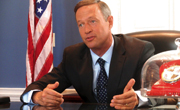 Photo: Martin O'Malley, Governor, Maryland/Photo by GTtv
The program, known as CitiStat, was a sensation. Working under four simple tenets - accurate and timely intelligence shared by all; rapid deployment of resources; effective tactics and strategies; and relentless follow-up and assessment - CitiStat achieved startling results. From repairing potholes to eliminating blight, by 2003 the mayor's office reported CitiStat had saved the city $100 million, thanks to much improved and more intelligent service delivery. Meanwhile, crime was also declining, though it was still high by national standards.
Now serving as Maryland's governor, O'Malley has applied the CitiStat philosophy across the state, resulting in a new program called StateStat. O'Malley said his experience in Baltimore compelled him to try CitiStat on a statewide level. And none of it would have been possible, he said, without having been dealt a couple of Jacks.
fdaa98ca6aaf45d0b3110284715a182d
Video: Gov. Martin O'Malley of Maryland discusses StateStat GIS for accountability and transparency.
"I've won a lot of hands in governance with two Jacks - [ESRI President] Jack Dangermond and Jack Maple," O'Malley said. "Jack Dangermond, who advanced, forwarded, fathered modern GIS; and Jack Maple, who [was] really a genius of a guy when it [came] to policing and implementing Commissioner Bratton's vision for CompStat in New York.
"Jack Maple was our first police consultant when I was elected mayor of Baltimore. In fact, it was a unique and unprecedented thing for us to bring in a consultant for policing. But our city had become the most addicted and violent in America by almost any measure. And we had lost more population than any city in America over a 30-year period as we became more addicted and more violent. As a councilmember, I saw that New York was turning things around in their city by reducing violent crime, and in doing so made their city a more attractive place for businesses to stay, grow and locate.
"So we recruited Jack [Maple] to Baltimore. When Jack was in Baltimore, he had this thought that we should be applying the CompStat approach - the performance measurement, maps and using GIS - to improve every aspect of city government."
b7355a30a85c46c88a9e23c29d050132
Video: How Maryland uses the StateStat map to track $3.9 billion of stimulus of stimulus funds.
Since being elected governor in 2006, O'Malley has worked on applying the four tenets of CitiStat to an entirely new animal - state government. Now, with StateStat operational, Maryland's executive leadership and the general public can see where the state is succeeding and where work remains to be done.
O'Malley said StateStat at its core is the rational application of human effort to human knowledge. By using GIS as StateStat's foundation, O'Malley said Maryland is afforded an unbiased look at the progress being made and how to confront the state's failings.
"A map doesn't know if a neighborhood is black or white, blue or green, rich or poor, Democrat or Republican," he said. "The map knows where the challenges are, where the problems are. It tells us where we need to deploy our limited resources in order to attack those challenges."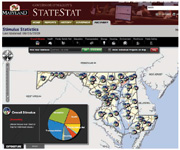 When the Obama administration set forth transparency guidelines for states to account for stimulus funds, Maryland was ahead of the curve with its already-implemented StateStat. Using a GIS foundation, StateStat provides a comprehensive breakdown of how Maryland counties and agencies are spending stimulus funds. in eight genres.
From City to State
CitiStat uses GIS to plot problem areas on a map and requires comprehensive performance management data from city staff. But adapting that model to fit state government was a challenge. State government must deliver more diverse kinds of services than cities do, and it's often further complicated by thicker layers of bureaucracy than those found in even the largest cities.
As O'Malley rolled out StateStat, he said he discovered that policy and the chain of delivery posed the biggest hurdles.
"The policy implementation is a much more important component of governing at the state level than at the municipal level," O'Malley explained. "At the municipal level in city government, it's all about delivering services; it's all about implementation; it's all about follow-up; it's all about sweat equity. At the state level, all of those things are important as well. But you also have to be very cognizant of the policy implementation, which often has a much more attenuated chain of delivery than, say, fixing a pothole. If you fix a pothole you call the 311 center, they dispatch a crew and the crew fills the pothole.
"When you're talking about improving reading scores with 10-year-old boys and girls throughout the state, there are the students themselves, the parent, the teacher, the principal at the school - there's maybe the instructional leader at the school. They report to an area superintendent, who reports to the superintendent, who reports to the county board, who reports to the state board, who reports to the state superintendent, who reports to the Legislature, who works with the governor."
To develop StateStat into an effective resource for both state government and state residents, O'Malley is diligent about performance management. Every two to three weeks, O'Malley and his staff meet with participating agencies and crunch the numbers. Are things better than they were two weeks ago? What does the data reveal?
b99f9d9b7c1145adaee9c5db398e50c9
Video: With Two Jacks, O'Malley Comes Up Aces
It's important to use StateStat for performance measurement not only because it's good government, O'Malley said, but also because it shows Maryland citizens - in graphic detail - what their government is doing to improve their neighborhoods, streets, the environment and their lives.
One element of StateStat, a subprogram named BayStat, has already caught the White House's attention. BayStat uses the same tenets and GIS technology to track and improve the condition of Chesapeake Bay.
"When it comes to the health of the Chesapeake Bay and the environment, I've been very pleased with how quickly we've been able to use the map to guide our decisions about environmental remediation and increase the effectiveness of things we do - whether it's cover crops, upgrades to wastewater treatment plants or expanding forested buffers on either side of streams," O'Malley said. "The map and this performance measurement approach have worked very well there - in fact, so well that President Obama's [Environmental Protection Agency] recently announced that they're going to apply Maryland's BayStat method to the entire bay watershed, which extends to about five states. To see StateStat jump, at least from where the bay application is concerned, to a multistate and then a national model has been very encouraging for all of us."
Mapping the Stimulus
With stimulus money flowing and new projects under way, states are scrambling to adhere to the transparency guidelines the Obama administration set forth to show Americans where their tax dollars are going. In Maryland, StateStat is already in place and is ideally suited for such a job.
"Fortunately because we already had this discipline of tracking against a map - measuring against a map - we were very well situated to embrace President Obama's challenge of tracking the stimulus dollars with openness and transparency, and in ways the public could easily see and monitor," O'Malley said. "So with ESRI's help, that's what we've been doing.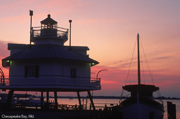 Photo: Chesapeake Bay, Maryland/Copyright iStockphoto
"We can put [stimulus money] on a map, and we can highlight the parts of the roads that are being resurfaced. We can store the information in a way that relates to the map so people can click on those things they see in their county. You can compare county to county, so citizens can see we are distributing these dollars in an egalitarian and fair way. And when it comes to some of the environmental things - the water and wastewater dollars that were in the stimulus program, not unlike the transportation dollars - those can be directly plugged in a map into specific projects, whether it's wetland restoration or improvements to wastewater treatment plants. All of that lends itself well."
O'Malley also pledged that all of the $3.9 billion in stimulus funds that have come through Maryland so far will be tracked on StateStat so the public knows where every dollar went.