Tainted Tomato Cases Reach 552 read the headline of a June 20, 2008, MSNBC News Services story. The Associated Press reported on Aug. 29, 2007, Spinach Recalled Over Salmonella Fears. This was preceded on May 10, 2006, by another MSNBC News Services story with the headline, Toxic Pet Food Kills Dozens of Dogs.
Though some of these stories were later shown inaccurate, these and other high-profile, food-safety crises vividly demonstrate how difficult it is to provide clear and consistent information to affected individuals, the professionals who come to their aid and the public at large. The risk communications surrounding these events were often inaccurate, inconsistent, inadequate or late. Communication missteps hampered community, state and national responses to the threats; in some cases, they resulted in widespread public confusion.
The headlines above speak to the challenges and perils of communicating to a public and media who often demand immediate answers, scientific certainty and reassurances. Organizations that routinely monitor food-safety communications -- such as Booz Allen Hamilton's Food Safety Workgroup -- note that in the case of the bagged-spinach recall, federal public health authorities were faced with a communications dilemma. Although a single manufacturer was the target, that one source had packaged spinach under multiple brands, which led to confusion about and resistance to the recall. The result: Many consumers believed that no spinach was safe, and more broadly, many avoided buying or eating not only spinach, but also a wide variety of green leafy produce.
In the case of the pet-food recall, initially federal authorities didn't correctly identify the problem's scope, and that impacted the credibility of their later communication to the public and media. In fact, some authorities primarily reposted the manufacturers' press releases, while consumers complained loudly that they lacked correct or sufficient information about which products or manufacturers used the toxic ingredient. The steady stream of images and sound bites in the media, as well as an online outcry from pet owners who lost their beloved pets, only intensified the crisis.
These unintended consequences of food recalls and warnings illuminate the need for advanced planning, clear strategies, enhanced coordination and risk tools to effectively communicate with the public before, during and after food-safety defense crises. Research and experience show that the key to successful risk communication is for emergency management and public health systems to respond to public perceptions and to establish, maintain and increase their own credibility and therefore the public's trust. The public must believe that government and commercial entities are working together, doing everything they can and staying on top of the situation. But most importantly, the public wants to see evidence that these entities have viable plans for early detection, rapid assessment, timely communications and that they issue clear, accurate guidance on what the public should or shouldn't do -- e.g., "Do not eat food product X, which might include specific identification guidance, or find a substitute."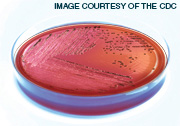 Salmonella is a group of bacteria that causes food poisoning. Every year, 40,000 salmonella cases are reported in the United States, according to the Centers for Disease Control and Prevention.
Vulnerability in Food-Safety Defense
In her 2004 New York Times article, Jennifer Wilkins suggested the United States is particularly vulnerable to both unintentional food safety and intentional food-defense crises, and pointed to several factors that contribute to this vulnerability. For one, the United States is importing increasing amounts of food. Also in 2004, James Zirin noted in The Washington Times that while half of the food consumed in this country is imported, the U.S. Department of Health and Human Services estimates that less than 10 percent of it is ever inspected. Moreover,