One of the main elements of a successful bicycle share program is the infrastructure to house the transportation. For New York City resident and founder of Social Bicycle System (SoBi) Ryan Rzepecki, eliminating that aspect through wireless technology may be the key to revolutionizing how cities, colleges and corporate campuses run social bicycle share programs.
Traditionally bicycle sharing programs require some type of hub or docking station to pick up and drop the bicycle off. But for those short on time who don't want to go out of their way and just want to hop on a bike and go, Rzepecki said, they should be able to do so using today's technology. And he's attempting to meet that need -- wirelessly.
"I looked at [other share systems] and said, 'I don't like how that's being done,'" Rzepecki said. "With today's technology, you should be able to do it in a different way."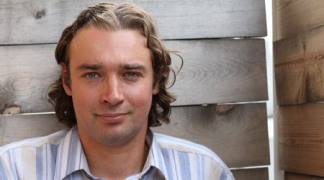 Photo: Ryan Rzepecki, founder, Social Bicycle System/Photo courtesy of Social Bicycle System
Different is just what Rzepecki's going for. Set to launch on a small, pilot scale this fall, Rzepecki created SoBi , a wireless system that tracks, finds and unlocks bicycles using a smartphone app. If successful, it will be "the first public bike share system with the authorization, tracking and security systems attached to the bicycle itself," his website states.
The system uses GPS, mobile communications and a secure lock that can attach to almost any bicycle and lock to any regular bicycle rack, and because there is no separate infrastructure, it costs one-third less than existing systems, Rzepecki said.
Once parking a bike at a destination, the user can only keep the bike on hold for 10 minutes. If a bike is not returned to a system hub by 9 p.m., the user is charged a $2 bounty fee.
Rzepecki, who previously worked for the NYC Department of Transportation, has teamed up with a handful of software and hardware engineers, to ensure the system's security and functionality. So far, the top concern he's heard from people is how the bicycles will stand up to thieves. "And that's obviously the first question that needs to be answered," Rzepecki said. "Any lock can be defeated with the right tools, but you want to make it as difficult as possible."
"Where there's a will, there's a way, and with the right tools, there's a way," he said. "But with GPS tracking and the social system around it, we can limit [theft]."
The telecommunication functions will be stored in an 8-by-8-inch "lock box" that will be secured to the rear wheel, which will communicate with a central server. All cyclists need to do is create an account with SoBi, locate a bicycle using a mobile phone or kiosk, request to use it via text message, smartphone app, or phone call, then enter the code once received, unlocking the bicycle.
"In New York, bike parking can be hard to find," Rzepecki said. "This expands parking, promotes bicycling and the lock will work with the standard bike rack."
After learning of bicycle share systems nationally and abroad -- including Germany's "Call a Bike" system -- Rzepecki eyed the opportunity to launch a fully wireless, smart bicycle sharing system.
He's already been contacted by cities and universities outside of New York City, but until the system launches this fall, Rzepecki is holding his cards close to his chest. "I think once we have the finished product, it will sell itself," he said. "I think there will be a lot of interest right out of the gate."
The fall pilot will include about 20 bicycles equipped with lock boxes. If all goes well, Rzepecki said he hopes to expand the project in summer 2011.