In the early 2000s, Wisconsin had a bit of a problem. The state offered plenty of public assistance programs, but they weren't being taken advantage of by many citizens who needed them. Why? Maybe it was difficult to take time off work or use a lunch break to apply for public benefits at an office open only during bankers' hours. And discussing personal information with eligibility workers made some citizens uncomfortable.
In response, the state created ACCESS, a Web portal that allows Wisconsinites to apply for health and social service programs, check eligibility, view the status of current benefits or change personal benefits information -- all from a computer.
"It's empowered our members and potential members to take control of their own cases and really have a way of interacting with the program that minimizes any stigma, embarrassment [and] inconvenience," said Jim Jones, deputy state Medicaid director for Wisconsin. The state receives about one-third of its applications online now.
The Wisconsin Department of Health Services built ACCESS for one purpose: to give citizens a faster alternative to receive services.
"The goal of ACCESS from the very beginning was to increase access to the programs," Jones said. "There were people who didn't want to come in to the local agency, who didn't even feel comfortable calling, who we felt would be more comfortable on the Internet."
Online accessibility also lets people receive services when the offices are closed. "If you worked 8 to 5, you'd either have to take a lunch break some other time or take time off to get food stamps applied for your case, or health care for your case and for your family. We wanted to make it easier for people to use," Jones said. "And we wanted to make it easier for people to apply for our programs and get in them."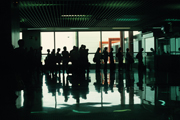 Applicants can also use ACCESS in public offices, where eligibility workers guide them through the process or type in information for them. Citizens can check eligibility or apply for programs, such as Medicaid; BadgerCare Plus, a program that offers health insurance to children age 18 and younger; FoodShare Wisconsin, designed to help low-income families buy food; and SeniorCare, which helps citizens age 65 and older get prescription drugs.
"Once the application is completed and you submit it, it comes into our automated eligibility system into an inbox; and then, when the [eligibility] worker chooses it, it takes all the data the client has provided and puts it into our automated eligibility system," Jones said. "It means the worker doesn't have to enter that information from a mail-in application form or in a face-to-face interview."
Not only does this save time for public employees because there's less data entry, it could also make personal interaction more meaningful, Jones said. When completing a traditional, paper-based application, an eligibility worker could be so focused on jotting down information, that discussing a client's personal life became a cold, mechanical task. But if the client entered the information into the computer beforehand, the worker would only call the client if it was necessary to clarify specific information. The discussion could be more informal.
"It's a phone call that says, 'Hey, you said that you have a new job over at Joe's Plumbing, and I wondered how many hours you're working there. Oh, you're working that many hours? Well, that's great. Can you send me your next pay stub?' It becomes that kind of conversation," Jones said, "rather than, 'I have to code this [information in the] computer the right way,' and makes it much more of a person-to-person kind of contact."