The American Recovery and Reinvestment Act (ARRA) may offer billions of dollars in stimulus funds, but short-handed local governments are having a tough time getting their hands on the money.
For cities and counties wracked by hiring freezes and staff layoffs, it's hard enough to cope with existing workloads, let alone the new demands of securing stimulus grants. Finding stimulus-related grants takes time and effort, and then the eligibility requirements must be studied and the application processes completed.
Adding to the burden is the fact that some local officials are struggling to understand the process for chasing down stimulus dollars. And others complain the stipulations on grants funded by the stimulus are so restrictive that applying for them isn't practical.
Too Few Cooks in the Kitchen
No local official wants to tell citizens that available grant money wasn't pursued. But deciding which employee to pull off a project to seek that money is a dilemma, said Contra Costa County, Calif., Chief Information Security Officer Kevin Dickey. "We really don't have the resources to go out and do the research," he said.
San Jose, Calif. CIO Steve Ferguson made a similar complaint.
"We're rewiring the whole police campus right now, which is a $2 million project. I can't stop that project to chase after some stimulus money when I'm not sure how much of a chance we even have to get it," Ferguson said.
Magnifying the problem of limited staff is how difficult it is to understand the process for finding stimulus grants, Dickey said.
"It seems to me there is no real communications structure in place from the feds to the state to the counties and cities that says, 'Here is your opportunity. Here are the instructions. Here is what you need to do, and this is the date you need to get it done,'" Dickey said. "I'm not saying it doesn't exist. I just haven't seen anything. A lot of local governments and state departments across the nation are going to miss opportunities because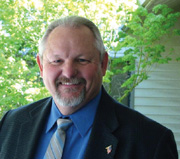 they didn't know somebody was at their door knocking."
But not everyone says identifying stimulus money is difficult. Ferguson said he thinks the Obama administration's Recovery.gov Web site is a useful tool. He added that the Public Technology Institute, a peer organization serving government IT departments, provides valuable stimulus-related alerts too.
To the Rescue?
A few CIOs who spoke with Government Technology suggested that private industry could play a bigger role in helping short-handed local governments find grant opportunities. "The knights on white horses are going to have to be the vendors that typically want to do business with us or are doing business with us," Dickey said.
Photo: Contra Costa County, Calif., Chief Information Security Officer Kevin Dickey
Ferguson agreed the idea was viable. Language in ARRA is lenient about the roles vendors can play in that process, he said. For example, governments and vendors are both permitted to apply for broadband stimulus money, according to Ferguson.
He said a government agency could conceivably release a document specifying what it wanted in a broadband network. Vendors competing for the job could then incorporate those specifications into stimulus applications and submit them to the federal government. The vendor chosen by the federal government for stimulus funding would then get to partner with the local government. Vendors would shoulder the burden of applying for stimulus grants and
governments could retain an element of competition in the process, Ferguson explained.
Dickey said governments could use the RFI process to seek help from vendors on locating appropriate grants. Some worry that strategy could appear to give an unfair advantage to the vendor doing the research. Dickey disagrees.
"Many times governments will bring in companies and have them demo their products and work with them toward potential solutions. Then we still go out and hold a bid and that company may or may not get it," he said.
Nevada County, Calif., CIO Steve Monaghan doubts the RFI approach would be a time-saver, however.
"That's a lot of work too. You don't just slap together an RFI and send it out. You have to read all of the responses. You're going to get multiple inquiries from each vendor who responds with questions. Then you have to publish those," he said.
Monaghan said he's already fielding calls from vendors who are proposing stimulus-funded projects.
"Just trying to respond to the telemarketers is a dilemma. A vendor calls in and says, 'I can save you so much money, and you can apply for grant money to pay for the project.' It could take an hour and a couple phone calls just to decide whether or not I'm interested," Monaghan said.
Although he's frustrated by tracking down and applying for stimulus grants with a staff thinned by layoffs, Monaghan continues to seek the money.
"If you have an opportunity to get a few million dollars, that's a lot of money for an organization our size," he said. Having his staff work overtime has been the only option for making it happen. "It's an endless stream of e-mails coming from the state and WebEx seminars or driving down to Sacramento [Calif.] for one-day workshops on how they think the process is going to be."
Stimulus Straitjackets
Many stimulus grants come with stipulations that make the money nearly impossible to integrate with other stimulus-funded projects, Monaghan contended. For example, he is developing a county broadband network project and would like to combine several broadband-related grants. But each grant contains rigid stipulations linked to the interests of the agency that's offering the grant. Monaghan said he can't build a single broadband network that would satisfy all of the requirements from the separate grants. Instead, each grant demands its own stand-alone network, which the city couldn't afford to sustain.
"We don't have the economy of scale to have six different networks. But the funding sources are tied to the six different needs, and none of those funding sources is really concerned with any of the other special interests," he said. "For example, telemedicine doesn't really care about what's going on in public safety radios. We're trying to build a larger project that will meet the needs of all of those different areas."
Agency-specific broadband grants often restrict applications that can be run on the network. For example, Nevada County's courthouse received a federal grant for a small broadband network. But the local police department couldn't use the network for video surveillance -- even though the cameras wouldn't disrupt the court's use of the network -- because it wasn't a court-related project.
"The bureaucratic restrictions basically say, 'We'll fund [the network], but you've got to leave it 90 percent underutilized because we won't let you use it for any other purpose," Monaghan said.
The county has left grant money on the table, due to those restrictions, according to Monaghan. "I see them come across my desk and they're so tightly written that we look at them and say, 'We can't even apply for that. It would be a waste of time,'" he said.