On Tuesday, President Barack Obama spoke about his proposed fiscal 2015 budget -- of nearly $4 trillion, which is a 24 percent increase in spending over last year.
A Washington Post graphic breaks down the primary allocations: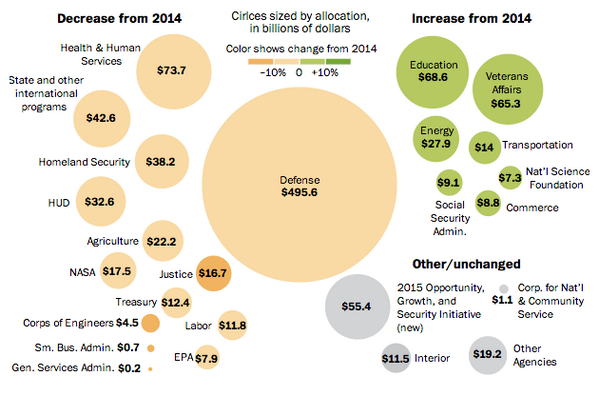 But let's look specifically at the tech. Under Obama's direction, the administration is "working to deliver a 21st-century government that is more effective, efficient and supportive of economic growth," according to the budget document.
When it came to technology in government, the budget spoke about delivering smarter IT -- about expanding federal cloud computing; continuing PortfolioStat, a data-driven effort to identify common spending areas to decrease duplication and drive down costs; consolidating data centers; expanding shared services; and opening data to spark innovation -- without specifying amounts.
When it comes to the classroom, Obama proposed $670 million to reorganize STEM education and bring ed tech training to schools.
The exception? Improving key citizen- and business-facing transactions at the Social Security Administration, which, under this budget, would receive $100 million for a new customer service modernization initiative, and another $150 million to further reduce wait times and enhance services at the agency. The budget also calls for investing in building an eBenefits Web portal and the Department of Veterans Affairs, but does not note a specific dollar amount.
Obama does want to "fully realize" his plan to build 45 manufacturing innovation centers -- of which four have already been announced. These hubs take advantage of nearby universities and businesses to share technology and ideas before products reach the commercial phase.
The president also wants a four-year, $302 billion plan to repair deteriorating roads and bridges and fund transit projects.
Whether this budget will pass, however, is questionable.