unk
In New Jersey, the Gloucester Township Public School District and Police Department launched a school bus monitoring system that utilizes GPS technology. The system enables the police to track the buses' movement and speed, and provides a panic button that the driver can activate during an emergency. It also automatically reports emergency events, like crashes, to the local police department.
"We don't necessarily have to sit there and watch the school bus," said Harry Earle, deputy police chief of the Gloucester Township Police Department. "In other words, that system is built so that if an alarm activates during an emergency, it instantaneously comes up on the dispatch monitors."
According to Earle, the local police work closely with the New Jersey Division of Highway Traffic Safety, which had expressed concern about school bus crashes in the state. He said the public school system transports 13,000 students a day, and improving school bus safety was a big issue for all of the parties involved. Another area of concern came from residents placing complaints about school bus drivers, and the system tracks and stores vehicle information for future retrieval.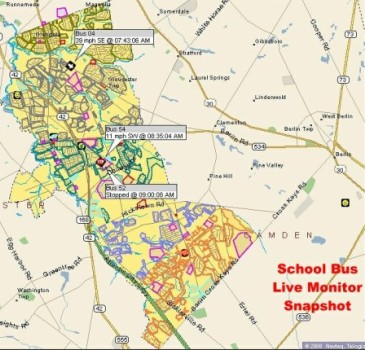 The police department applied for and received a grant for the GPS installations in February 2007 from the state's Division of Highway Traffic Safety. The $8,700 grant provided funding to have the equipment installed in three school buses. According to Earle, the department requested funding for seven more installations, but actually received enough money to install nine tracking devices, which was awarded on Nov. 1, 2008. He also said the school district will be installing 15 more installations with its own money. The additional 24 tracking units should be installed within the next month, Earle said.
View Full Story