A volunteer success story emerged from the devastation of the fall 2007 wildfires that engulfed 1,500 homes and charred 500,000 acres in Southern California.
Affiliated volunteers - people with formal roles with organizations - arrived in large numbers to work at shelters and in medical functions, while improved management and training helped harness the power of other "spontaneous" volunteers. The outpouring of money and help ensured a better-coordinated disaster response than at the Gulf Coast following Hurricane Katrina. In total, more than 10,000 Californians registered to volunteer in response to the fires.
But the after-action report conducted by the San Diego County Office of Emergency Services revealed there were still cracks in the system - one was the need for enhanced communications and better working relationships among volunteers and donation agencies. The report highlighted a critical point: Volunteers themselves are important during disasters, but a bigger piece is how they are managed.
That's why the state stepped in. In February, Gov. Arnold Schwarzenegger created a Cabinet-level office of volunteer management and appointed Karen Baker, former executive director of the state commission CaliforniaVolunteers, as the new secretary of service and volunteering.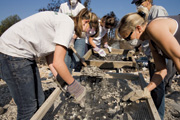 The efforts of affiliated volunteers, such as American Red Cross volunteers, will be more coordinated in California.
The office will fill a gap by coordinating with the array of volunteer groups in all sectors statewide. Never before in the United States has a governor's commission been elevated to a Cabinet role.
"It was really the disasters - the fire and [the 2007 San Francisco] oil spill - that showed the governor firsthand the government can't do it alone," Baker said. During both disasters, volunteers came in droves, but volunteer management needed improvement.
In her new role, Baker continues to lead CaliforniaVolunteers but now wields greater influence and more responsibility.
The executive order also gave CaliforniaVolunteers control of disaster donation coordination, which was previously shared with the California Governor's Office of Emergency Services (OES).
By redirecting funding and positions, the changes proved to be budget neutral.
"I think it's something in the volunteer and service world that folks have really wanted," said Kristen Haggins, California's program director of the Corporation for National and Community Service, the federal agency that provides grants to state volunteer commissions and administers national service programs, including AmeriCorps, Senior Corps, and Learn and Serve America.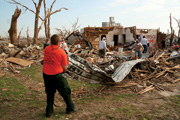 Each year, volunteers contribute millions of hours serving in various capacities, and having an online registry helps streamline coordination efforts.
Major Initiative
California's network of autonomous volunteer organizations that respond to disasters makes up the muscle behind the state's volunteering power. "Recent events show that Californians are ready and able to respond," said Henry Renteria, director of the OES.
Renteria and Baker recognize the importance of volunteerism in emergency management. A major CaliforniaVolunteers initiative is improving statewide coordination of volunteer activities through standardized training and creating a common language, Baker said.
"The service world, the volunteer world and the emergency management world - we're all trying to connect," Haggins said.
It's especially important to coordinate roles and forge good relationships before a disaster, she said, because volunteers expect to have appropriate roles and be shown that their service is valued. "In an emergency, there's not always time to make that happen," said Haggins.
Also important to the commission is the more efficient use of spontaneous volunteers who've traditionally been difficult to depend on, train, keep track of and certify.
However, even affiliated volunteers can be