When worries about H1N1 flu spread across the U.S. in 2009, New York City's public school system was of particular concern. Thousands of students were afflicted with suspected H1N1 cases, which caused alarm among health officials who thought the virus could spread and set off a citywide epidemic.
So in October that year, the New York City Health and Education departments joined forces, announcing the launch of a weeklong vaccination program at city schools, an effort followed by a broader, school-based H1N1 vaccination program.
Because the emergency vaccination program was mandated, local health personnel were required to volunteer extra hours to meet the demands - and the Education Department expanded its work force management software to correctly handle timekeeping for these employees.
Meeting Demand
The Education Department set up weekend vaccination clinics so the New York City Health and Mental Hygiene Department could administer vaccines to the city's 1.1 million students within a multiweek window in November and December 2009.
"The New York City Health Department needed to dispense this vaccine throughout the city and into the school population, which is more than 1,500 sites," said Elizabeth Knipfing, deputy executive director of the Education Department's Division of Financial Systems and Business Operations.
To handle the workload, the Education Department modified its existing work force management software, supplied by New Jersey-based CyberShift Inc. But the vaccine project in 2009 required Knipfing and her colleagues to expand the core business engine to handle timekeeping for more employees and an increased workload.
Because the department had cooperation from top city officials, including Mayor Michael Bloomberg and Health Commissioner Dr. Thomas Farley, the adjustment wasn't as difficult as it could have been.
"There were no government hurdles. It came to us through our HR department, and we were told what the business rules were," Knipfing said. "We had to get it implemented, and there was a start and end period."
But even with the government on board, the Education Department still had to work quickly to get everything done on time.
"We turned it around within about three weeks. There was some rules-engine programming that had to be done because we had to create the code that payroll would accept," Knipfing said. "They gave a set of rules, and the rules were whoever volunteered got a minimum of four hours of pay. If they worked more, naturally they got more according to overtime rules."
For every civil servant who stepped up to work on the vaccination effort, the department had to make system adjustments to integrate the CyberShift timekeeping system with the payroll system, which is separate. Planning for the vaccine program began in October, when the team hammered out business requirements, design, programming and quality assurance testing.
"In any kind of development effort, you start with a business requirement. You go from the business requirement to the traditional design, to the code part and to the quality assurance," said Art Krozser, vice president of enterprise solutions and global support for CyberShift. "And since the New York City Department of Education is serviced through a software-as-a-service business model, we then have to promote it through the traditional SAS 70 modes of getting it validated in a test environment, and then in a production environment."
Technology Focus
The CyberShift work force management solution is compliant with the American Institute of Certified Public Accountants' Statement on Auditing Standards (SAS), a.k.a. SAS 70.
The audit certifies that a product is deemed acceptable to handle many accounting and financial procedures.
Knipfing said the work force management technology has been cost-effective.
"Since we went live in 2002, we're approaching about $10 million in expenditures for the time and attendance system - the entire system," Knipfing said. "That
includes maintenance, programmers, project manager - everything. I am very proud that we've been able to do it with that amount of money."
By comparison, New York City's government, as a whole, has a different time and attendance system that the city has spent more than $400 million on, she said.
The Education Department uses its time and attendance system to handle information for thousands of employees, although the vaccine program ended months ago.
"We originally thought we were going to go with the whole 150,000 people who work here," Knipfing said. "And then we decided to keep it just to the administrative staff, which is about 15,000. Right now we have about 13,000 users on the system."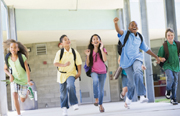 Photo by iStockphoto
Simple and Easy
The time and attendance system has an interactive voice response (IVR) component, so someone can make a phone call and the system populates a field on an electronic timesheet with the accompanying time. Badge readers also are connected to the system.
"It empowers the employee to manage his or her own time and attendance," Knipfing said. Employees also can manually fill out timesheets themselves.
The time and attendance system is Web-based and maintains time records. It records daily attendance and applies department timekeeping rules and regulations, tracks absences, and applies sick and vacation accruals. Employees can also obtain leave balances online and request personal time electronically.
Employees can use the system to manage all of this from one central screen that can render multiple views. And on the back end, when the department wants to make a change to the hosted system, CyberShift employees make the adjustments.
The nature of government can make timekeeping more challenging than it may be in private-sector environments, Knipfing said. "We have many different unions, and the way their time is kept, they earn time - it's called earning accruals, and their accrual earnings vary across civil service titles and union contracts," she said.
The Department of Education's timekeeping upgrade made the process a bit easier to navigate than it would be otherwise.
"People assume that time and attendance are easy things to do in both the private and public sector," Knipfing said. "But it's not easy. It's very complicated, and you don't know it unless you're involved in it."