Photo by Matthew Gilson
on behalf of the council. The businesses discussed the report's findings and started brainstorming. They said their companies face a shortage of computer science graduates and people with enough business sense to know what industries need to turn things around.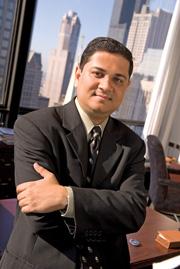 Photo: Hardik Bhatt, CIO, Chicago/Photo by Loren Santow
And when the council met with local universities and technical schools to hear their perspectives, what they heard was enlightening.
"We posed the same question, 'Why is McKinsey saying we are not focusing on talent?' and 'Why are businesses saying that they are not getting the right graduates and enough graduates from your classrooms?'" Bhatt said. "They said, 'Hey, we don't have a problem in changing our curriculum and making sure that we produce the right graduates. Our problem is even filling the computer science classrooms.'"
The city and local businesses saw the need to cultivate more young people interested in IT careers, but there needed to be schools to train them in. Chicago was already committed to building more schools, but at least one of them needed to focus on technology.
These building efforts were rooted in city initiatives like Renaissance 2010, which Daley launched in 2004 to increase quality educational options across Chicago. The city also launched the Chicago LEADS initiative -- or Leading Economic Advancement, Development and Sustainability -- initiative in 2007 to open career-oriented schools. During this period, Chicago Public Schools solicited proposals to parties interested in opening new schools.
Bhatt said these new schools could either be tuition-free public schools supported by government funds; charter schools, publicly funded and free from some regulations that bind public schools; or contract schools, which are public schools run by companies, nonprofits or other third parties. By 2008, however, Illinois had maxed out the number of charters it could approve, which left the contract and public options for new schools.
City officials didn't think a traditional public school would work as a technology academy because of constraints on the public education system. Consequently the city solicited for organizations interested in creating a contract school, and the task went to the Center for Polytechnical Education. The center also operates another contract school in Chicago called the Austin Polytechnical Academy, which is focused on preparing students for four-year colleges and careers in high-tech manufacturing.
"You have to meet certain standards that the public school system would meet, but you're given a tremendous amount of autonomy. You're able to really develop your own curriculum, your own teaching and instructional methods, and your own standards for teachers and students," said Terry Howerton, chairman of the Illinois Technology Association, a trade association of approximately 500 technology organizations. More than 100 of the association's companies support CAAT by providing curriculum input, volunteers, equipment and funding. Their ranks include household names like IBM, Microsoft and Google.
The first fall freshman class had 150 enrollees, a number Hancock estimates will be the same for each successive freshman class for the next three to four years. The typical public school year is about 180 days, but academy students will attend a mandatory summer program of four to six weeks. And when they go to class, they'd better be prepared to put in some long hours.
"The day is going to be 8 a.m. to 4 p.m. for core academics. The typical school ends at around 2:30, 2:45 in Chicago, and then the students will move into an after-school program that starts at 4:00," Hancock said. "Their days will be longer than a typical public school day."
Freshmen will be met by seven instructors initially, in addition to one special education teacher, a director of instruction, Principal Teisha Jones and an industry liaison who will