Photo by Matthew Gilson
be the school's link to private industry. More teachers will be added as successive grades come along.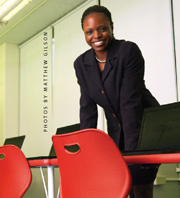 Photo: Teisha Jones, principal, Chicago Academy of Advanced Technology/Photo by Matthew Gilson
Ways to Learn
Lessons will focus on the learning process itself and not just on mastering information. Students will engage in more hands-on learning experiences entailing group work, voicing thoughts out loud for other students to listen and comment on, and using resources outside of school to research information. They will be encouraged to provide vigorous input in teacher lectures and take a more active role in their own learning. Hancock refers to this method as inquiry-based or problem-based learning.
"You're teaching students how to problem solve and how to do analysis, and then they're applying those skills to specific objectives that reflect different levels of thinking, and that's how they move through the curriculum," he said. "And so the teacher is the facilitator in this kind of a setup as opposed to a lecture or someone who imparts knowledge."
Students' grades will be based on how well they master objectives in what's called a mastery-based learning system. The system has yet to be fine-tuned, but students will have to master at least 90 percent of the objectives to get a C or a B.
"We're going to have a very high ceiling in terms of expectations of the students, and the range of grades that you're going to see will be much tighter than in a typical school because we're giving kids as much or as little time as they need to master the specific objective," Hancock said.
Guiding Students
Students will be learning with the support of the vendor community, which comprises numerous private-sector groups with an IT presence. These companies have the money and personnel to help with funding and equipment donation, and help advise the academy on what IT coursework is relevant to today's technology.
"I think they get a tremendous value out of it, and their value comes from a ready-made work force that they have personally worked on creating," Bhatt said.
These companies will be the source of internships that will introduce students to workplace culture. They will also supply mentors to students who will give one-on-one attention. A mentor will be a working professional who can help guide an assigned student as he or she develops a technology focus. The academy plans to have one mentor per student with no mentor assigned to more than one student, but that could be challenging. Although there are 150 freshman enrollees, fewer than 150 mentors have been secured as of press time. When the first freshman class reaches senior year, the academy will have about 600 students total.
The school's recruitment effort involved academy representatives speaking to families and various middle schools about what the curriculum would entail. Interested students applied, and after receiving about 300 applications, the freshman class was selected by a lottery. There were no special requirements to get in because CAAT has an open-enrollment policy.
"We went out to different schools, got in touch with counselors, did presentations and attended any sort of fairs that would allow us to provide information about our school and the opportunities that we had available for families," said Jones.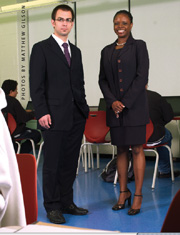 Photo: Matt Hancock (left), executive director, Center for Polytechnical Education; Teisha Jones, principal, Chicago Academy of Advanced Technology/Photo by Matthew Gilson
She and colleagues had talked with the parents of potential enrollees to inform them about what the academy has in store for