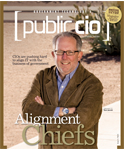 Delaware CIO Tom Jarrett announced today that he will be leaving his post on January 20th, saying only that the state's new governor wants to make a change. Jarrett, in a note to NASCIO members, said "It is with great sadness that I announce that I will be leaving my post as CIO for the state of Delaware on 1/20/2009 ... These last seven years have been the most rewarding in my career. I have also enjoyed my association with NASCIO and everyone involved with it."
A release from Governor-Elect Jack Markell's transition team said that James H. Sills III has been nominated to replace Jarrett as CIO. "Jim brings best practices from the private sector and a record of innovation to the table," said Markell in the release. "Having run a small business and been a senior executive at several banks, he has had to put himself in the shoes of his customers and delivered time and again. He will do the same for the state," Markell said. "He understands how technology can make government more accessible, affordable and responsible." Before launching the company i9Direct.com, a provider of Web-based employment eligibility verification tools for businesses, Sills spent five years as an executive vice president at MBNA (now Bank of America), where he directed the implementation, global service delivery and communications of all technology related projects for the $77 billion US Card subsidiary.
Sills' 15 years in banking and finance included roles as president of Memphis First Community Bank and as COO at First Tuskegee Bank. He spent several years as a revenue division manager for the city of Wilmington and began his career as a statistician for the State Department of Finance during the DuPont administration. He holds a Masters in Public Administration from the University of Pittsburgh and graduated from Morehouse College.
"As Chief Information Officer," said Sills in the release, "I look forward to working with all three branches of government and the school districts to put the users' needs first and provide the technology vision and leadership to help determine the best solutions for the state of Delaware. In addition, I look forward to working with the management and staff of DTI to foster innovation, improve cost effectiveness, and improve service quality."