"Glitches in Payroll System Spark Furor" ... "City Fires Vendor Over ERP Implementation Problems" ... "City's Financial System Upgrade Runs Into Problems" ... "County Will Try Again to Modernize Computer System."
What state or local municipal IT executive wants to read these real headlines in the local newspaper?
The fact is they highlight the challenges city executives face when implementing or upgrading technology. There's often a natural resistance among municipal leaders to risk change because when implementations go poorly, there's a good chance they'll receive public criticism. Whether from the employee's or vendor's perspective, failure is a badge no executive wants to wear.
With the economy struggling, technology executives at municipalities across the country are under increasing pressure to cut costs and find ways to operate more efficiently and effectively. Enterprise resource planning (ERP) has long been held up as a primary vehicle to get there, both in the commercial and municipal sectors. But as the aforementioned headlines show, when it comes to municipal ERP implementations, the end results seem hardly guaranteed.
L.A. Story
Los Angeles was in a technological hornet's nest in 2005. Government officials were under scrutiny for a PeopleSoft 8.8 upgrade that had gone badly. Beyond the multimillion-dollar price tag for taxpayers, the purchased technology wasn't delivering on its promised capabilities. City staff was working overtime to make the system operational.
Internally the situation was so bad, city personnel couldn't perform routine updates. System glitches and outdated business processes required an ongoing focus on issue resolution rather than software maintenance and financial positioning. Employees were forced to "backdoor" individual transactions into the city's large information database -- this led to a significant backlog of maintenance tasks and problems reconciling contractual obligations due to quality control issues. Additionally several problems with the interface between citywide systems -- including heavily customized software code -- were preventing data from being shared across departments.
Externally vendors weren't being paid, and the first audit of the full fiscal year was approaching. For nine months, the contractor responsible for the upgrade attempted to diagnose the issues, without success. This led, albeit erroneously, to a widely held opinion that the Oracle software was to blame.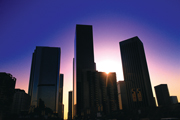 Although many factors worked against L.A., there were some strategic points in the city's favor: a centralized approach to solving problems -- rather than letting each functional department manager micromanage projects, city leaders determined the best course of action citywide; good coordination between key agencies; and a strong propensity for seeing the big picture rather than getting caught up in the minutiae of specific problems.
In a rare move, the original software vendor called on Metaformers Inc., a McLean, Va.-based ERP integrator, to help diagnose the problem. During a 72-hour period, Metaformers staff analyzed and diagnosed issues related to the system software, business processes, city databases, specific program settings and more. Metaformers executives then outlined a plan to fix the problems. It was presented to city management, which put the plan into action.
Today L.A. is back on track. In December 2008, the city announced it successfully upgraded and went live with PeopleSoft 9.0 Financials.
Successful ERP is a blend of science and art, so there's no one-size-fits-all formula for success. But as we learned during L.A.'s ERP implementation, just following a few consistent rules will increase the likelihood you'll accomplish your goals.
1. Software won't fix organizational problems.
In the past, city staff saw