Photo courtesy of Andy Blumenthal, CTO, Bureau of Alcohol, Tobacco, Firearms and Explosives
not stand-alone functions -- they are all necessary and complementary.
An organization can have the best EA plan, but without the structured investment processes of CPIC, the plan will not drive, guide, influence and shape IT investment decision-making. In fact, I would propose that CPIC is an enforcement mechanism for carrying out the EA plan.
Similarly the organization can have a wonderful CPIC process for making IT investment decisions, but without a PMO to develop and enforce sound PM policies and practices, IT projects will continue to fail miserably. With an effective PMO, we will have more successful project execution, but without CRM to manage customer requirements and service and support issues, we run a very high risk of rolling out IT capabilities that the customer neither wants nor is happy with. Further, CRM will increase customer satisfaction, but without ITS, CIOs will not ensure the security of the information and systems that the users are depending on.
Finally, with ITS, CIOs will provide users for information security, but without BPM, will miss the opportunity to perform structured performance measurement and management, so that the CIO has visibility to how IT is performing in all areas and on an ongoing basis and can take timely corrective action as needed.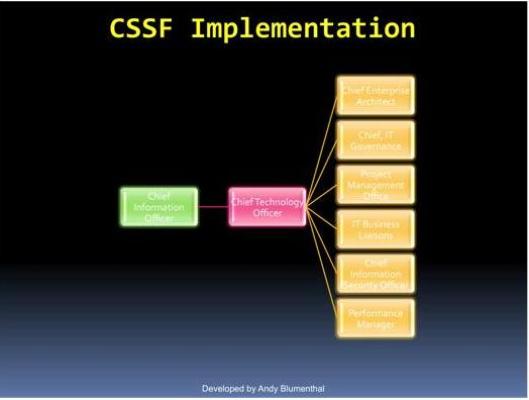 Most organizations either don't do any of these CSSF functions well or they don't do them all. The six components need to be executed together -- the whole being greater than the sum of its parts. Further, I would propose that the six CSSF functions be implemented under the auspices of the CTO of the organization in order to centralize and holistically manage the functions in support of the CIO.
The result is that the CIO is better supported, without being overwhelmed, and the CTO has a clear mandate for strategically implementing the CIO's vision for the organization.
Of course, one of the biggest challenges to implementing the CSSF is finding and allocating the needed funding to support these OCIO functions. IT operations tend to be underfunded already and stuck in the perpetual firefighting mode. Executives often fearf siphoning the needed money or people away from the short-term firefight to work on long-term strategy and implementation. This is a serious mistake!
Firefighting is a losing battle if you attack only the symptoms, but never address the cause or core strategic issues. Moreover, in the fast-paced technology environment of the 21st century, no IT leader can afford to be looking backward -- managing legacy systems that do not leverage modern technologies, techniques and methodologies for information sharing, collaboration and business intelligence.
If you are spending close to 100 percent on IT operations today, is it really unreasonable to allocate 3 to 5 percent of this to strategy, planning and control? Of course, this needs to adjust when IT budgets get extremely large or small and as the complexity of the organization shifts.
As the prior chief enterprise architect of the U.S. Coast Guard and of the United States Secret Service, I have always been a deep proponent of EA and CPIC to drive better IT investment decision-making. However, now as the chief technology officer (CTO) of the Bureau of Alcohol, Tobacco, Firearms and Explosives, I more fully understand how the CSSF functions and interplay are needed for the CIO to perform effectively.
Clearly EA and CPIC are not enough to adequately support the CIO's needs, and thus, they need to be extended with PMO, CRM, ITS and BPM. Moreover, these areas function best that function together for the reasons I mentioned prior -- it's a clear domino effect, where astute planning, sound governance, skilled project management practices, competent customer service, solid IT security and meaningful performance measurement are all necessary for the CIO to manage IT more strategically and effectively.
This is why I firmly believe that the CIO Support Services Framework is how we are going to have to manage IT to achieve genuine success for the CIO in the 21st century and beyond.