Direct Assistance Grants Available for PSAPs
The Association of Public-Safety Communications Officials International announced two initiatives: the Member Assistance Advisory Program's (MAAP) Wireless Facilitator Program and direct assistance MAAP funding grants. The grants will assist public safety answering points (PSAPs) that have not yet deployed Wireless Phase II, the capability to geographically locate a 911 caller who's calling from a mobile device from the cellular network or GPS. The MAAP Wireless Facilitator Program builds on the existing MAAP program by providing wireless deployment facilitators trained on Project LOCATE - Locate Our Citizens At Times of Emergencies.
The facilitators will assist with the development of PSAP-specific readiness assessment and deployment planning, and clarification of PSAP needs and challenges when deploying Wireless Phase II.
The facilitators will help PSAPs identify peer resources in mapping, readiness assessment, customer premises equipment evaluation, service negotiations and public- education initiatives.
Project LOCATE and the Public Safety Foundation of America are offering a limited number of direct-assistance MAAP funding grants to PSAPs looking to complete wireless 911 readiness and deployment. The amounts available to qualifying PSAPs are between $20,000 and $25,000. Call 888/272-6911 for more information.
Donated Devices Aid Communication
The Grady County, Okla., police and fire departments now have interoperable communication capabilities thanks to a donation of 10 radio units by BAE Systems, according to a company press release. The $65,000 donation included training on how to use the units.
"My main goal is to have adequate communications between emergency first responders at the incident scene. Lack of adequate communications is a nationwide problem," said Robert Doke, the state fire marshal of Oklahoma. "Grady County first responders will now be able to communicate with each other during any fire, car accident or large-scale disaster, expediting response times and eliminating any communication gaps."
Mobile Traffic Service Proved Invaluable During Hurricanes
Last September, Galveston, Texas, and much of the Gulf Coast looked down the barrel of approaching Hurricane Ike - with frightening memories of Hurricane Katrina's devastation - and fled to their cars to evacuate before disaster struck. Many evacuees were able to find the safest and quickest path to higher land courtesy of their cell phone.
The 3rd Dimension Mobileyes service for mobile devices was launched in December 2007 to serve the region's more than 2 million daily commuters. Users can view traffic cameras on their mobile devices before leaving their home, office or school in order to plan the quickest and safest route.
The service was especially helpful during Ike.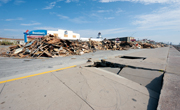 "Through a partnership with Houston TranStar, 39 Traffic Jam Cell Cams track about 600 cameras along highways around Houston, allowing the public to see snapshots of traffic on their highways of choice," said Dinah Massie, public information officer of Houston TranStar. "In the week Ike hit the southeast Texas region, the public accessed about 60,000 camera views for some 20,000 Houston-area users."
Cute and Cuddly
The Center for Domestic Preparedness (CDP), located in Anniston, Ala., strives to be the training facility of choice for America's emergency response providers. One of the center's innovative training approaches is using stuffed animals during triage training. Students prioritize the needs of the sick and wounded following a mock explosion, but what they find may be a furry