Screenshot: One Economy's Beehive adds emergency preparedness information.
New Orleans residents now have an additional resource to help them prepare for emergencies and natural disasters. The new initiative by Allstate Foundation and One Economy have created online tools and are providing on-the-ground support, provided by trained volunteers known as Community Fellows, to help city residents create and implement personal emergency preparedness plans.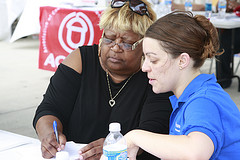 Community Fellows--New Orleans residents with personal experience dealing with emergencies--work on-site in at-risk neighborhoods. Through collaboration with local nonprofit organizations including the Louisiana Association of Nonprofits and the Association of Community Organizations for Reform Now (ACORN), Community Fellows aim to educate residents about emergency preparedness and help them develop emergency preparedness plans. Their work includes organizing informative public events, holding group education sessions, and speaking to community and church groups on steps to take to prepare for emergencies.
The Community Fellows implement the strategies outlined by the online emergency preparedness resource which is part of the Beehive, an online multimedia resource maintained by One Economy to help members of communities nationwide find answers to questions that impact their quality of life. The Beehive's emergency section features multimedia tools and information that help families plan for and respond to all kinds of emergencies, from natural disasters to outbreaks of disease and other medical emergencies.
As an online resource, the Beehive's emergency preparedness information is available to residents of communities nationwide. "In the Digital Age, every American should have access to vital information, especially in areas as important as emergency preparedness," said Rey Ramsey, One Economy's chief executive officer. "Now, through our collaboration with the Allstate Foundation, we will be using the power of the Internet to convey that information to residents and help them create personal, comprehensive emergency plans."
The program was launched earlier this month during a community block party at the Hope Community Credit Union in Central City, La., which is among the first neighborhoods targeted by the Community Fellows. A total of 10 fellows will eventually spread out across the city to work directly with residents and organizations to help formulate and implement personal emergency plans. Ultimately, the fellows will work with 20 New Orleans-area nonprofit organizations to reach more than 100,000 people.
The initiative is a vital tool in helping New Orleans residents protect their homes, families and properties, Jan Epstein, Allstate Foundation executive director, said. "The program is the first of its kind in the country and we believe it will go a long way toward rebuilding a safer New Orleans."
The Community Fellows, who will each work for up to six months in the program, underwent intensive training in assisting residents in creating their emergency preparedness plans; meeting small groups to educate them about emergency preparedness; training organizations to prepare their clients for an emergency; holding public events, such as a computer classes and fairs; and speaking to community and church groups about emergency preparedness.
Area residents can schedule appointments with Community Fellows to create an emergency preparedness plan by e-mailing communityfellowsinfo@one-economy.com. New Orleans residents can also get information from the city's Web site.