stock photo
to be created," Redmond said. "You could set up a portfolio that has 'most wanted' so that immediate searches could be done."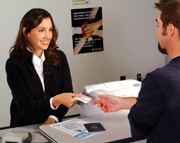 Leasing to Own
The BMV entered into a contract with L-1 Identity Solutions in August 2008, and the project was finished just four months later. The system is basically an off-the-shelf product that's deployed and maintained by L-1 through the life of the four-year, $2.4 million contract.
"It's our responsibility to provide the software and drive the integration process," Redmond said. "It's our own servers and technology. "We deliver the goods, they host it and we maintain it over the life of the contract."
One of the first tasks for L-1 was to "cleanse" Indiana's database of duplicate photos. The database contained about 13 million images dating back to 1999. In some cases, there were multiple photos for a single driver's license number because of license renewals; those images had to be matched with a single license holder. The database was pared down to about 6.5 million.
Other than that task and minimal training for BMV personnel, the deployment was quick and easy. "We've been able to create a repeatable process and make it efficient and cost-effective," Redmond said.
"It's not like we were groundbreaking with the technology," Rosebrough said. "But we needed to make sure, from an implementation standpoint, that we had the operational procedures for our associates in the branches, as well as the internal computer programs and integration of the technology with our platform. That's why we did the pilot."
The BMV expects to add about 1.8 million licenses yearly to the system and predicts it will be searching through 14 million every day by the end of the contract. At the end of the four-year contract, the state will own the system or it can renew the contract. The state would then own the hardware and images. If Indiana renews the contract, L-1 would modify the system routinely with the latest technology.