Photo by GTtv
Photo: Maryland Gov. Martin O'Malley. Photo by GTtv.
This past December, the same month that President Barack Obama named Howard Schmidt as the first-ever White House cyber-security coordinator, hackers from China allegedly attacked computer systems at Google and at least 20 other big U.S. companies.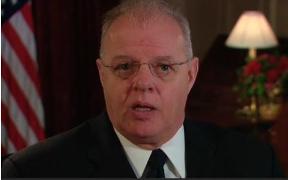 Photo: Howard Schmidt, White House cyber-security coordinator. Photo courtesy of the White House.
According to Google, evidence suggests that the invaders were trying to access Gmail accounts of Chinese human rights activists, "most likely via phishing scams or malware placed on the users' computers," according to the Official Google Blog.
Although Google officials believe the hackers failed, the attack has pushed the mega-corporation to the brink of shutting down Google.cn and possibly its offices in China, wrote David Drummond, senior vice president of corporate development and chief legal officer for Google.
View Full Story