Hong Kong (.hk) domain has jumped 28 places as the most dangerous place to surf and search on the Web according to a new McAfee report called "Mapping the Mal Web Revisited" which was released today. Hong Kong takes the mantle from Tokelau, a tiny island of 1,500 inhabitants in the South Pacific.
The most risky generic domain from 2007 (.info) became even more dangerous with 11.8 percent of sites posing a security threat and is the third most dangerous domain overall. Government Web sites (.gov) remained the safest generic domain. The most popular domain, .com, is the ninth riskiest overall.
"Just like the real world, the virtual threats and risks are constantly changing. As our research shows, Web sites that are safe today can be dangerous tomorrow. Surfing the Web based on conventional wisdom is not enough to avoid risk online," said Jeff Green, Senior Vice President of Product Development & Avert Labs.
The second annual McAfee "Mapping the Mal Web" report into the riskiest and safest places on the Web reveals that 19.2 percent of all Web sites ending in the ".hk" domain pose a security threat to Web users. China (.cn) is second this year with over 11 percent. By contrast Finland (.fi) replaced Ireland (.is) as the safest online destination with 0.05 percent, followed by Japan (.jp).
McAfee analyzed 9.9 million heavily trafficked Web sites found in 265 different country (those ending in country letters e.g. Brazil (.br)) and generic (those ending in .net or .info for example) domains.
The study compared the ratings of sites found in each of the 265 country and generic domains and ranked them by the number of risky Web sites found in each domain that contained adware, spyware, viruses, spam, excessive pop-ups, browser exploits or links to other red-rated sites.

Among country domains Romania (.ro) and Russia (.ru) remained in the top five most dangerous places with 6.75 percent and 6 percent of their Web sites ranked as risky while country domains like Japan (.jp) and Australia (.au) remained safe surfing environments.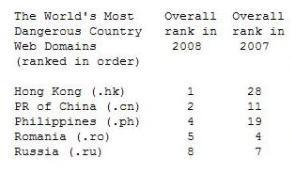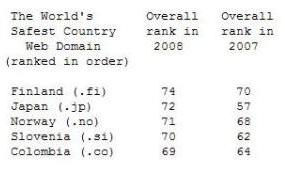 Other key findings from the 2008 report include:
The chance of downloading spyware, adware, viruses or other unwanted software from surfing the Web increased 41.5 percent over 2007
Sites which offer downloads such as ringtones and screen savers that are also loaded with viruses, spyware and adware increased over the last year from 3.3 percent to 4.7 percent
The Philippines (.ph) experienced a 270 percent increase in overall riskiness
Tokelau (.tk) and Samoa (.ws) were notably safer in 2008 dropping to 28th and 12th
In Europe, Spain (.es) experienced a 91 percent increase in overall risk
"For administrators of top-level domains this study should act as a wake-up call. Last year's report spurred Tokelau's domain manager to reexamine its policies," said Jeff Green, Senior Vice President of Product Development & Avert Labs. "Not all domain managers are as accommodating so our mission is to educate consumers of the dangers and protect them in every way they enjoy the Web whether through their PC, the Web itself, or mobile phone. With our new secure search and Website safety certification, we're taking the guesswork out of searching and surfing online so that consumers enjoy a safer Web experience."