Photo:  Rudy Perez (left), head of the Southern California Edison solar project, and Edison engineer Jerry Isaac, review engineering drawings at the Fontana, CA, site where Edison's first commercial rooftop panel installation began this week. First Solar "thin film" panels will be attached to rails secured to the 600,000-square-foot roof above.  Coutesy of Southern California Edison.
Southern California Edison today began installing solar panels on the first of approximately 150 southern California commercial rooftops that eventually will make up the company's two square mile solar generation project which California Gov. Arnold Schwarzenegger called "the nation's largest solar installation by a utility."
"Today 16 percent of the kilowatt hours that all of you receive from us are from solar, wind, geothermal - all forms of renewable [energy]. But solar is still small." John Bryson, chairman, president and chief executive officer of Southern California Edison said at an event announcing the project in March. "The beauty of this is that is right here where we need the power," he said.
The program will provide a new generation source to areas where customer demand is rising. The solar modules will be connected directly to the nearest neighborhood circuit, eliminating the costly, time-consuming step of building new transmission lines to bring power to customers. The output of solar panels closely matches peak customer demand - lower in the morning and evening, higher in the afternoon.

This massive solar project also is designed to supplement several California environmental programs, especially the Million Solar Roofs program that provides incentives to encourage Californians to install solar projects by 2017. The solar program supports the state's Global Warming Solutions Act, which requires the reduction of greenhouse gas emissions to 1990 levels by 2020, as well as complementing California's renewable portfolio standard, the goal that 20 percent of the state's electricity be generated with renewable energy.
During the next 45 days, the company will attach 33,000 solar panels to a 600,000-square-foot commercial roof in Fontana, Calif., leased from ProLogis. When completed, this first installation will be capable of generating 2 million watts of power, enough electricity to supply approximately 1,300 average Southern California households at any point in time. This new, clean power supply will be fed directly into the nearest neighborhood distribution circuit, strengthening grid reliability in the nation's fastest growing urban area, the Inland Empire region of Riverside and San Bernardino counties, Southern California Edison said in a news release. The company expects to connect the first panels to its grid in early September, which will help meet peak summer power needs.
"This is the first step in Southern California Edison's plan to install 65 million square feet of solar film on top of business buildings all over the state of California," Schwarzenegger said. "This is an equivalent of 1,100 football fields," he noted.
When it is complete the project will produce enough power for 162,000 homes.
"This project is just a hint of what is to come in the future. Imagine if everyone had the same ambition, the same courage as this one utility had and this one property owner. Let's set our sites even higher. Let's reach even further and let's think even bigger. Let's finish the work we've begun here in California and create the future we want for our world."
The Solar Cells
Southern California Edison selected First Solar, developer of an advanced thin-film photovoltaic (PV) technology, as the winning bidder in a competitive solicitation to supply the photovoltaic system for this first installation.
"We are pleased to work with Edison on a project we believe will demonstrate the solar PV system business model needed to dramatically reduce distributive solar electricity costs," said Michael J. Ahearn, CEO of First Solar. "Edison's project confirms the important role of PV solar power plants in delivering clean,
affordable electricity to the nation's fastest growing urban areas."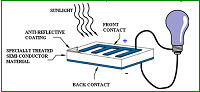 How It Works
Regulatory Status
If approved by regulators, during the next five years, Southern California Edison plans to install, 3.5 million of the most advanced photovoltaic panels or 250 megawatts of solar-generating capacity -- enough capacity to serve approximately 162,000 Southern California homes. Decisions have not yet been made on other building sites or panel suppliers.
The company asked the California Public Utilities Commission on March 27th for approval to commit a total of $875 million to the utility's solar project, informing regulators the expected capacity cost per installed watt would be approximately $3.50, half the average current capacity cost of other photovoltaic installationSubsequently, on May 8, the company provided additional cost projections to regulators, telling them the utility forecasts an energy cost of approximately 20 cents per kilowatt-hour after adjusting for time of delivery.