Alabama Gov. Bob Riley demonstrated the power of high-speed Internet today when he brought together Alabamians at various locations around the state for a discussion through a video connection made possible by broadband.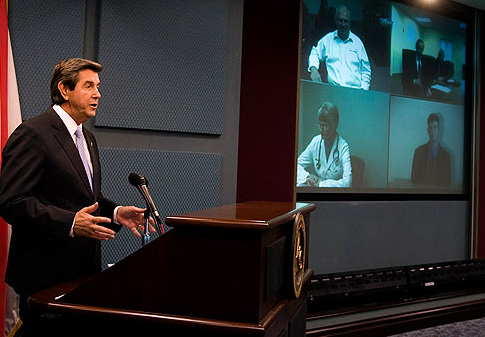 Photo: Gov. Riley discusses the need to expand high speed Internet access to rural areas of the state. With a broadband connection, the governor is able to communicate with people from locations across the state on the screen behind him.
The demonstration highlighted the governor's broadband initiative, which aims to bring high-speed Internet access to every community in the state. The connection allowed Riley, who was in Montgomery, to interact and see a pediatrician in Brewton, a farmer and elementary school teacher in Lamar county, a business leader in Mobile, and a judge and sheriff in Shelby county. All of them spoke about how broadband plays a vital role in their professions and how the state would benefit from greater access to broadband.
Riley said the discussion is a reminder of how important it is for the state to move forward on expanding broadband access.
View Full Story