Illustration by Tom McKeith
Given the implosion of the national municipal Wi-Fi craze, what should local governments that are still seeking some form of municipal broadband do next? The good news is they don't have to start from scratch. Not all the municipal-broadband efforts of the past few years failed:
The municipal fiber-optic network in Bristol, Va., earned the city a spot on the Intelligent Community Forum's Top Seven list of "most intelligent communities" -- the only U.S. city to make the cut. Bristol's network offers broadband, cable TV and telephone service.
Corpus Christi, Texas, purchased back its Wi-Fi network from EarthLink after the company left the muni-broadband business. The project saves the city money because the network is used for electronic-meter reading.
A government-installed Wi-Fi network in Greene County, N.C., diversified a local economy once reliant on tobacco.
And connectivity in downtown Houston that lets citizens pay for street parking with credit cards paid for itself after six months.
Where many highly publicized wireless failures -- like those in Philadelphia and San Francisco -- went wrong was relying on vendors' promises to build free networks in exchange for Wi-Fi transmitter space on city streetlights, towers and other assets. Vendors hoped the networks would create a bonanza of consumer broadband subscriptions that would pay for the installation costs.
Industry wisdom appears to have boiled down to this: Cities can't treat municipal-broadband networks like trendy clothes. As peer pressure to install municipal Wi-Fi networks grew, cities became convinced they needed municipal Wi-Fi to be "cutting edge."
Instead, successful municipal wireless networks fulfill specific community needs. Municipal broadband hasn't worked for every city, but for the ones in which it does, the advantages can be transformational.
Serving the Underserved
Given the failures of municipal networks aimed at providing commercial services, like in-home broadband subscriptions, one might assume government shouldn't try offering them. However, city and county networks that sell commercial broadband can work in areas that vendors won't serve. For example, Bristol, Va., recently became the only U.S. city named in the New York-based Intelligent Community Forum's Top Seven Intelligent Communities of 2009, in recognition of the city's municipal-broadband network. Bristol Virginia Utilities (BVU), a public utility, runs the fiber-based network, which provides telephone, cable television and broadband services to 65 percent of the city. The fiber powers free Wi-Fi at the local mall and government buildings. Many citizens also use the network for Wi-Fi in their homes, said Wes Rosenbalm, president and CEO of the BVU.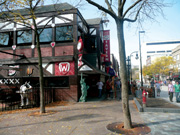 Photo: Bristol, Va., has an advanced fiber-to-the-home network that provides free Wi-Fi access to residents and has lured businesses to the area.
"For various reasons, 35 percent of the population does not have our services. In some cases, that's because it's an apartment building that we're not allowed into -- things of that nature. A fiber-optic overbuild of 65 percent penetration is impressive. They usually run in the 30 to 35 percent range," Rosenbalm said. In addition, all commercial buildings in Bristol can access the network.
The utility funded the network with bonds and federal grant money. The project cost $21 million. Rosenbalm expects the network to pay for itself in 12 to 15 years. One could argue the investment has already paid off because the network enticed technology companies Northrop Grumman and CGI to open business there. "They brought 700 jobs that paid an average salary of $50,000," Rosenbalm said. "Our average salary is somewhere in the neighborhood of $20,000."
Bristol's network succeeded where many municipal-broadband projects failed because the city was responding to a genuine need rather than desire for a novelty, Rosenbalm said. Bristol couldn't get a major vendor to build