Illustration by Tom McKeith
a similar fiber-optic infrastructure in the city, and the project wouldn't have been profitable enough for a telecommunications company's stockholders, Rosenbalm explained.
The fact that a city-affiliated public utility doesn't face the same profit pressures as a private business made municipal Wi-Fi a good fit for the BVU, Rosenbalm added. The network began full service in 2003. Also, unlike several of the municipal-broadband networks attempted elsewhere, Bristol's project didn't center on free services. Citizens pay for access to the fiber.
"Our basic cable package is $36.75, and that includes 80 channels. Our basic phone line is $14. With broadband, it depends on what speed you get," Rosenbalm said, adding that the BVU's prices were less than or comparable to rates offered by other providers in Virginia.
Planning for the network began in 1999, when the BVU only intended to connect its own substations. Once the substations were linked, the city requested the infrastructure also connect government buildings. Private businesses began asking for the ability to connect to the fiber. Realizing it had a project that potentially could serve the entire city, the BVU conducted two surveys.
"One survey was internal. Another was done through RT Nielson to make sure citizens wanted this kind of infrastructure and service," Rosenbalm said. "Both were very positive. We ran two business process plans by two sources to make sure it made sense financially. Then we took the step of moving forward into doing it for every citizen who wanted it in Bristol."
Surviving Without Tobacco
While Bristol funded its own broadband network to become more sophisticated, Greene County, N.C., used municipal broadband to stay alive.
By the early 2000s, declining demand for tobacco had devastated the Greene County economy. In 2005, the municipality initiated a program called Beyond Tobacco that aimed to make the local work force technologically competitive in the job market. "They were all farmers. A lot of them never graduated from high school. All they had ever known was how to do farm labor. We knew we had to change the entire community," said Misty Chase, director of Beyond Tobacco.
Chase followed a commonly executed three-pronged approach for digital-inclusion: broadband access, subsidized computer hardware and technology training. Initially the county couldn't find a provider to invest in broadband infrastructure, but the government scored a $572,000 grant to help fund its network. After collecting money of its own, the county had a total of $1.5 million for all three parts of its broadband strategy. Wavelength Broadband Internet, a North Carolina-based company specializing in rural broadband, joined the project to deploy wireless transmitters on city towers and water tanks. Beyond Tobacco purchased laptops, enabling every student in 6th grade through high school to take home their own. A side benefit was that parents learned to use computers and the Internet.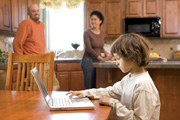 "The only way these kids get to bring this laptop home is if their parent goes through a training class," Chase said. "This way they know what their kids are doing on those computers. We all know kids can get into the wrong stuff."
The $1.5 million also funded 30 laptops for a mobile-training lab that Chase takes to the county's senior center, fire station, churches and other community organizations that adults visit. The vehicle does travel to schools, but Chase didn't want to force adults to learn shoulder-to-shoulder with schoolchildren.
"A lot of our people didn't feel comfortable going into schools because they never graduated from high school," Chase said. "We wanted it to be more about boosting morale about what they were doing as opposed to pushing them down."
The investment proved successful. Nearly 40 new businesses have moved to Greene County since it deployed its