"A person is smart. People are dumb, panicky dangerous animals, and you know it," proclaimed Agent K, actor Tommy Lee Jones' character in the film Men in Black. Agent K was referring to the chaos that would ensue were the public made aware of aliens living among them. Because when people think and act in unison, the results are rarely productive, and occasionally they're catastrophic.

But what if you could take groupthink and eliminate the dumb, panicky and dangerous parts? That's the idea behind crowdsourcing: When you ask the whole world a question at the same time, it's safe to assume you'll end up, by default, with a reasonable answer.

And thanks to the Web, you really can ask the world a question and get individual answers in return. That's exactly what the Chicagoland Chamber of Commerce did as part of its InnovateNow campaign. The chamber turned to the wisdom of the crowd to determine how to increase public transit ridership on reduce greenhouse gas emissions.
One Billion Rides
Four years ago, in partnership with the Illinois Department of Economic Opportunity, the chamber launched InnovateNow, an effort to transform the Chicago metropolitan area into a global center of innovation, entrepreneurship and creativity. To achieve its goal, the chamber is working with state and local governments, schools and businesses on ideas for design and innovation that will spur economic growth and environmental sustainability.

During preparation for the 2009 Innovation Summit, the chamber was approached by InnoCentive, a company that specializes in using crowdsourcing to help clients solve problems, said Chicagoland Chamber Foundation President Lance Pressl. For a fee, InnoCentive helps its clients design a challenge, which can be related to any subject - from math and science to public policy. Once the challenge is finalized, the client (a.k.a., the "seeker") offers a reward for a workable solution and InnoCentive posts the challenge on its Web site. Once the challenge is posted, "solvers" from around the world can access it and attempt to devise a solution. Anyone can be a solver, and InnoCentive said it has around 180,000 people registered.

"As we were preparing for our third annual Innovation Summit, we were thinking about what the theme might be," Pressl said. "We seized upon 'How innovation plus design can equal sustainability.'
"We thought, 'Wouldn't it be cool if we were able to link the theme of what we were doing with an InnoCentive challenge?'"

After some brainstorming, the chamber settled on a challenge that would ask how the Chicago Transit Authority could increase public transportation ridership and reduce greenhouse gas emissions. The challenge dovetailed with the already-established Billion Rides campaign - an effort to tally 1billion public transit rides in one year.

Last fall, Pressl and the chamber began working with InnoCentive's sales vice president, Jon Fredrickson, to devise a challenge they hoped would generate a blueprint for boosting public transit ridership to 1 billion. The chamber managed to get $5,000 for a reward and posted the challenge in November. Pressl presented the winning solution at the Innovation Summit in May 2009.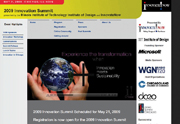 While it's not a government body, the not-for-profit Chicagoland Chamber of Commerce seeks to improve the Chicago region. The chamber was also the first organization with a public interest to work with InnoCentive. As such, both Pressl and Fredrickson said they weren't sure what interest there might be in solving a public-works problem. They were both pleasantly surprised.

"That people somewhere would have an opinion and be willing to use their intelligence to offer that opinion, idea or solution to a public body was pretty compelling," said Fredrickson. "And when you started looking at the number
of responses that came in from different points around the globe, it really started giving us all an idea that people care and have the intellectual capacity to add quality in a solution to something of public interest."

In fact, the challenge yielded 125 proposed solutions, with participation from every populated continent. Everyone involved in the chamber's challenge was stunned - not only by the number of solutions offered, but also by their worth.

"The quality of the submissions was impressive. We didn't know what to expect, but there were some really thoughtful people," Pressl said. "[InnoCentive has] 180,000 solvers from around the world in its community. It would be very hard to cut through the clutter to get people to look at it if we were going to do [a challenge] individually. They bring 180,000 solvers to the table immediately. They have solvers who make a living just solving challenges. I was impressed with the fact that more than 50 percent of the solvers in their community are outside the United States."
Winning Solutions
Though there was global participation in the challenge, the winner and runner-up were Chicago-area residents. The winning entry came from Aaron Renn, a local writer who covers urban affairs. Renn's submission, which can be viewed at InnovateNow, is an exhaustively researched, 18-page work that details precisely how the Chicago Transit Authority can reach that billion riders mark. It's exactly what Pressl hoped would come out of the crowdsourcing experiment.

"We were impressed with his depth of knowledge of the system and his recommendations," Pressl said. "His writing was clear, precise and concise. He had a complete picture of what needed to happen to make the public transportation system more desirable to riders."

For a government agency, a crowdsourcing challenge could be an appealing approach to problem solving. But for these challenges to work, there must be a reward. Sure, some people may submit ideas because they take pleasure in it. But to reach the talent pool that's all of humanity, something beyond intellectual curiosity is needed. Unfortunately an agency procuring reward money from its budget for such a contest is likely a tall order - especially when the reward would go toward something called crowdsourcing.

But crowdsourcing is nearing credibility, if it hasn't reached it already, as a way to generate legitimate information. For example, Wikipedia has been a wildly successful experiment. It's not perfect, nor will it ever be. But Wikipedia has perhaps become something more important - reliable.

The way Pressl looks at it, a government agency funding a similar endeavor might not be an impossibility after all.

"I think once people begin to see the value of crowdsourcing - nothing against consultants - but you might spend $50,000 on consultants," Pressl said. "This might be an alternative, more cost-effective way to get some different ideas. The diversity of ideas by unique experiences is the real value here. For us, it was intoxicatingly addictive. The idea of being able to tap into 180,000 people is kind of cool."

The choice was spending $50,000 for a consulting firm to generate solutions or a quarter of that to ask the world. For the Chicagoland Chamber of Commerce, the answer was in the crowds.