Photo: Mayor Gavin Newsom, San Francisco

San Francisco Mayor Gavin Newsom and Twitter co-founder Biz Stone announced at a press conference this week that residents can make 311 customer service requests or complaints to the city's call center using Twitter, a social networking platform that lets users share messages called "tweets" of no more than 140 characters.
Residents can tweet into the city's call center about various services like graffiti removal, potholes, garbage maintenance and street cleaning. Mobile users can also send messages and pictures using a third-party application.
"I think, and [Biz Stone] can correct me if I'm wrong, we are the first city in the country, if not in the world, to actually combine this new two-way communication technology with a 311 call center as a new way to communicate directly and through mobile devices with the citizens of the city and county of San Francisco," said Chris Vein, the city/county CIO and executive director of San Francisco's Department of Technology. Vein oversaw the project along with Nancy Alfaro, director of the San Francisco 311 Customer Service Center.
"We're just excited to be first in the nation to use a social networking platform to handle service requests this way," said Alfaro.
San Francisco is using CoTweet, a Twitter enterprise platform, to manage and track messages. In its first day of operation, CoTweet effectively provided a clear, clean presentation while archiving the city's tweets, said Andy Maimoni, deputy director of the center.
Since Tuesday's launch, Alfaro said there have been approximately 89 requests. The city now has nearly 1,400 followers and has made 39 updates. The city's site also features a list of sample tweets.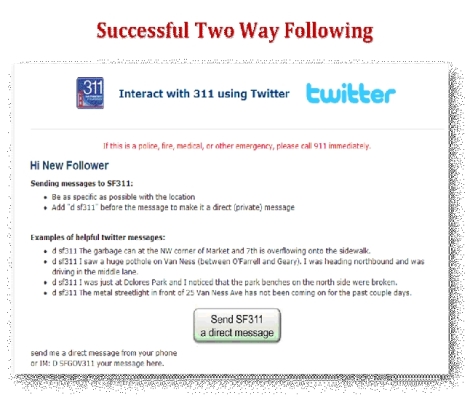 How Tweeting 311 Works
To make service requests, residents who have Twitter accounts must follow San Francisco's account at SF311. Once a service request is submitted, it's logged by a call taker into a customer relationship management database. The resident is then given a tracking number so he or she can follow up on the issue. Users can send direct messages to the call center by appending the letter "D" before SF311, which allows them to receive real-time responses. However, users with general inquiries usually receive a link with the information they need.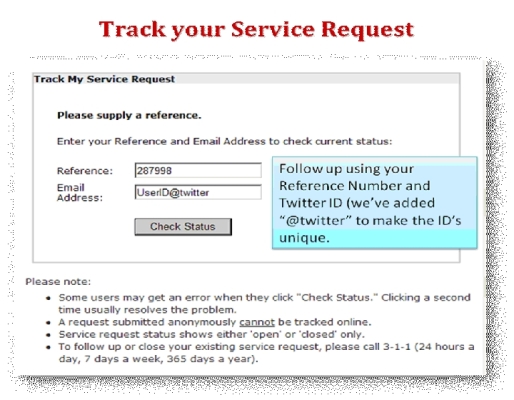 The pilot program comes as an extension of city services and it's a learning tool to better serve citizens, said Alfaro. "We think that people will be more aware of this other means of communicating with 311, and word will get out and you'll just have more and more people using this as an option to communicate with 311," she said.
"We thought this might be an interesting way to see if we can open up this channel using spare resources, spare time, using customer service staff," Maimoni said.
Maimoni and Alfaro agree Twitter is a supplemental avenue for contacting 311 and that the 140-character restriction hasn't created any communication problems so far. Maimoni said most 311 queries can be handled via Twitter, but more complicated cases are dealt with over the phone. "If you have some large complaint that you want to do, then we'll say, 'Hey, why don't you call us.' There are things you're probably not going want to do in a messaging format," he said.
The Future
Though San Francisco might be starting a new trend, it's yet to be seen what the future will be using Twitter. City officials are hopeful.
"We're not going to stop with just 311," said Vein. "This is a pilot and we're starting with 311, but we certainly expect to take this with a little bit of experience, take it to other departments -- and it could be that we take do that with [the Municipal Transportation Agency] or the Youth Commission. There are a number of good examples that we will be working with to build out in the future."
San Francisco's 24/7 call center was launched in March 2007, has received more than 5 million calls and serves callers in 176 languages, according to a press release on the mayor's Web site.
Looking for the latest gov tech news as it happens? Subscribe to GT newsletters.