Photo: Teisha Jones (left), principal, Chicago Academy of Advanced Technology; Matt Hancock, executive director, Center for Polytechnical Education/Photo by Matthew Gilson
The United States is often seen as the world's technology leader, but the 21st century could bring some challenges to the throne.
Consider this: The Rand Corp., a nonprofit research organization, reported in a 2008 document, U.S. Competitiveness in Science and Technology, that the European Union awarded 41,000 science and engineering doctorates in 2002 compared to America's 27,000. In the paper, Richard Freeman, a research associate with the National Bureau of Economic Research, forecast that by 2010 Europe will produce twice as many doctorates in the field as the United States, and China will produce about 25 percent more than the U.S.
But an innovative endeavor in Chicago could become an example of how to improve America's standing. On Sept. 8, 2009, the Chicago Academy of Advanced Technology (CAAT) opened its doors. The academy is the result of an effort -- led by Mayor Richard M. Daley and CIO Hardik Bhatt -- to fill the need for skilled IT workers and tech-savvy executives at Chicago companies and within city government.
CAAT is operated by the Center for Polytechnical Education, a nonprofit focused on training young people to be shining technology stars in a changing economic universe. Matt Hancock, the center's executive director, hopes the subject matter will help build technical prowess and creativity within the next generation so they can strengthen the economy.
"We want to see our graduates getting great jobs, then going into management, going into ownership of companies, starting new companies and driving the creation of the new kinds of businesses that we'll see in our future," Hancock said.
The school will train students in multiple science and engineering subjects, including robotics, computer programming, biotechnology and Web development -- along with the conventional subjects that are required by state law.
"We have to make sure we're offering the students the seed courses they need, so that means students will take English. Students will take math. They'll take science. They'll take subjects in social sciences as well. They'll take P.E. -- all those are sort of the baseline course offerings," said Teisha Jones, principal of the new academy.
As students progress in their studies, they'll gain work experience at companies and guidance from a mentor in the business world. CAAT graduates will leave the school with various IT certifications, industry experience and know-how before they ever step foot inside a university classroom.
"The most exciting thing is knowing that I will have an opportunity to potentially change the lives from the students entering the door, and understanding that it is definitely an opportunity of a lifetime to sort of build and mold these students to be leaders in the field of technology," Jones said.
Research and Planning
If all goes well, CAAT will be part of the solution for local companies that need to find the right talent for high-tech operations. The school came about because of a series of events that began years ago. Bhatt co-chairs the mayor's Council of Technology Advisors, and said the city commissioned McKinsey, a management consulting company, in 2005 to conduct a pro bono study on the local technology sector to assess the region's IT strength.
"They basically looked at all the technology -- information technology, biotechnology, nanotechnology -- and they came to a conclusion that the Chicago area in general is moving ahead more slowly compared to the coasts of the United States," Bhatt said.
Chicago needs more talent to revitalize these areas. Between late 2006 and early 2007, Bhatt convened meetings with local businesses and postsecondary institutions
on behalf of the council. The businesses discussed the report's findings and started brainstorming. They said their companies face a shortage of computer science graduates and people with enough business sense to know what industries need to turn things around.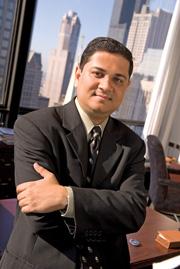 Photo: Hardik Bhatt, CIO, Chicago/Photo by Loren Santow
And when the council met with local universities and technical schools to hear their perspectives, what they heard was enlightening.
"We posed the same question, 'Why is McKinsey saying we are not focusing on talent?' and 'Why are businesses saying that they are not getting the right graduates and enough graduates from your classrooms?'" Bhatt said. "They said, 'Hey, we don't have a problem in changing our curriculum and making sure that we produce the right graduates. Our problem is even filling the computer science classrooms.'"
The city and local businesses saw the need to cultivate more young people interested in IT careers, but there needed to be schools to train them in. Chicago was already committed to building more schools, but at least one of them needed to focus on technology.
These building efforts were rooted in city initiatives like Renaissance 2010, which Daley launched in 2004 to increase quality educational options across Chicago. The city also launched the Chicago LEADS initiative -- or Leading Economic Advancement, Development and Sustainability -- initiative in 2007 to open career-oriented schools. During this period, Chicago Public Schools solicited proposals to parties interested in opening new schools.
Bhatt said these new schools could either be tuition-free public schools supported by government funds; charter schools, publicly funded and free from some regulations that bind public schools; or contract schools, which are public schools run by companies, nonprofits or other third parties. By 2008, however, Illinois had maxed out the number of charters it could approve, which left the contract and public options for new schools.
City officials didn't think a traditional public school would work as a technology academy because of constraints on the public education system. Consequently the city solicited for organizations interested in creating a contract school, and the task went to the Center for Polytechnical Education. The center also operates another contract school in Chicago called the Austin Polytechnical Academy, which is focused on preparing students for four-year colleges and careers in high-tech manufacturing.
"You have to meet certain standards that the public school system would meet, but you're given a tremendous amount of autonomy. You're able to really develop your own curriculum, your own teaching and instructional methods, and your own standards for teachers and students," said Terry Howerton, chairman of the Illinois Technology Association, a trade association of approximately 500 technology organizations. More than 100 of the association's companies support CAAT by providing curriculum input, volunteers, equipment and funding. Their ranks include household names like IBM, Microsoft and Google.
The first fall freshman class had 150 enrollees, a number Hancock estimates will be the same for each successive freshman class for the next three to four years. The typical public school year is about 180 days, but academy students will attend a mandatory summer program of four to six weeks. And when they go to class, they'd better be prepared to put in some long hours.
"The day is going to be 8 a.m. to 4 p.m. for core academics. The typical school ends at around 2:30, 2:45 in Chicago, and then the students will move into an after-school program that starts at 4:00," Hancock said. "Their days will be longer than a typical public school day."
Freshmen will be met by seven instructors initially, in addition to one special education teacher, a director of instruction, Principal Teisha Jones and an industry liaison who will
be the school's link to private industry. More teachers will be added as successive grades come along.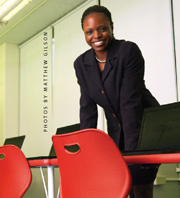 Photo: Teisha Jones, principal, Chicago Academy of Advanced Technology/Photo by Matthew Gilson
Ways to Learn
Lessons will focus on the learning process itself and not just on mastering information. Students will engage in more hands-on learning experiences entailing group work, voicing thoughts out loud for other students to listen and comment on, and using resources outside of school to research information. They will be encouraged to provide vigorous input in teacher lectures and take a more active role in their own learning. Hancock refers to this method as inquiry-based or problem-based learning.
"You're teaching students how to problem solve and how to do analysis, and then they're applying those skills to specific objectives that reflect different levels of thinking, and that's how they move through the curriculum," he said. "And so the teacher is the facilitator in this kind of a setup as opposed to a lecture or someone who imparts knowledge."
Students' grades will be based on how well they master objectives in what's called a mastery-based learning system. The system has yet to be fine-tuned, but students will have to master at least 90 percent of the objectives to get a C or a B.
"We're going to have a very high ceiling in terms of expectations of the students, and the range of grades that you're going to see will be much tighter than in a typical school because we're giving kids as much or as little time as they need to master the specific objective," Hancock said.
Guiding Students
Students will be learning with the support of the vendor community, which comprises numerous private-sector groups with an IT presence. These companies have the money and personnel to help with funding and equipment donation, and help advise the academy on what IT coursework is relevant to today's technology.
"I think they get a tremendous value out of it, and their value comes from a ready-made work force that they have personally worked on creating," Bhatt said.
These companies will be the source of internships that will introduce students to workplace culture. They will also supply mentors to students who will give one-on-one attention. A mentor will be a working professional who can help guide an assigned student as he or she develops a technology focus. The academy plans to have one mentor per student with no mentor assigned to more than one student, but that could be challenging. Although there are 150 freshman enrollees, fewer than 150 mentors have been secured as of press time. When the first freshman class reaches senior year, the academy will have about 600 students total.
The school's recruitment effort involved academy representatives speaking to families and various middle schools about what the curriculum would entail. Interested students applied, and after receiving about 300 applications, the freshman class was selected by a lottery. There were no special requirements to get in because CAAT has an open-enrollment policy.
"We went out to different schools, got in touch with counselors, did presentations and attended any sort of fairs that would allow us to provide information about our school and the opportunities that we had available for families," said Jones.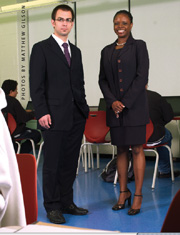 Photo: Matt Hancock (left), executive director, Center for Polytechnical Education; Teisha Jones, principal, Chicago Academy of Advanced Technology/Photo by Matthew Gilson
She and colleagues had talked with the parents of potential enrollees to inform them about what the academy has in store for
students.
"We had that conversation with parents explaining to them that this is a technology high school, and the goal is to make their son or daughter leaders in the field of technology," she said.
Howerton has high hopes for what CAAT can do for area youth and noted that students might enter the school at different levels of academic achievement.
"The public school education that they have received today has failed them, and so we've developed an instruction method and curriculum that we think can accelerate the learning process for those kids who are several grade levels behind," Howerton said.
Even though the academy is a contract school, it still falls within the Chicago Public Schools jurisdiction, so it's automatically received about $7,400 per student from public funding. More money was needed to finance programs like the mentorships and the acquisition of some instructional technology. Hancock said as of August 2009, the academy had raised hundreds of thousands of dollars in outside financing from various donors, including many of the sponsor organizations that belong to the Illinois Technology Association. This money has been enough to support instruction for the first-year freshman class, but more fundraising will be needed to support successive school years, the summer program and mentor programs. The academy's Web site still lists requests for donations.
"What we think we're doing has an opportunity for real systemic change, not only in the instruction methods, which are, in and of themselves, unique not only in the way we organize and the curriculum we're presenting, but also in the general concept of increasing the number of stakeholders in public education," Howerton said. "Giving private-sector leaders an opportunity to give back and play a role in public school education is a fundamental opportunity for systemic change."
---
Never miss a story with the daily Govtech Today Newsletter.
---