Photo: Dr. Melodie Mayberry-Stewart, CIO of New York State
The numbers are sobering: a projected $4.6 billion budget deficit in New York; a massive $16 billion shortfall in California. Not the sort of news IT vendors were hoping to hear when they gathered in Tysons Corner, Va., yesterday for the annual Beyond the Beltway market briefing on state and local government IT. Meanwhile, the Washington Post reported on the same day that at least half the states were reporting budget shortfalls, some quite severe, as the nation's economy continues to sputter.
But the bad budget news overall didn't necessarily translate into lost IT opportunities. Teri Takai, who has been California's CIO for barely 75 days, pointed out that the state's IT spend continues to increase and that several large projects are under way. "Right now, it's unclear what will be the impact [of the budget deficit] on IT," she said. "It may hit a few select areas."
Takai was joined by New York CIO Dr. Melodie Mayberry-Stewart and Texas CTO Brian Rawson. The three IT executives discussed the current state of IT in their jurisdictions and doled out advice to several hundred IT vendors who attended the one-day event.
Takai explained to the audience that in her new position as a cabinet-level CIO, she has more control over IT project approval than her predecessors, but pointed out that the state's highly decentralized structure meant that each agency has its own IT budget controlled by program area.
She also highlighted major IT efforts under way in Calif., including several significant ERP projects, a pending network infrastructure upgrade, and announced she was taking a hard look at data center consolidation. "Right now, the data centers are spread all over," she remarked.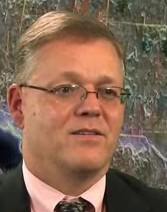 Texas CTO Brian Rawson
Rawson, who did not mention any budget deficit problems, pointed out that Texas spent $1.4 billion on IT in FY 2008. He discussed the "tough and difficult effort" to consolidate the state's 32 data centers down to 2 and how it has reaped benefits in the form of cost savings, commercial grade processing power and enhanced security. Another transformation involves the state's telecom network.
"We're transitioning from being a provider of data and voice circuits to a customer advocate for the state's agencies," explained Rawson. Texas Online, the state's self-funded, public-private portal, was another example cited by Rawson of the state's investment in technology. With nearly 800 online services, Texas Online has processed nearly $5 billion in transactions via the Web and is expected to generate $46 million in transaction fees for the state in FY 2009.
Mayberry-Stewart has been New York's CIO for 10 months and has focused on consolidating her policy-advisor role with that of operational director of the Office For Technology. The result: a better handle on how the state spends nearly $2 billion annually on IT. Mayberry-Stewart faces a number of challenges, including an ongoing consolidation of data centers and a state government that runs 97 percent of its mission-critical applications on aging mainframe computers.
On the plus side, New York is embarking on several major IT initiatives that will cost nearly $3 billion. They include a statewide wireless public safety network, a massive ERP project that will consolidate 200 different financial systems and modernization of the state's human services programs. Mayberry-Stewart also announced that the state plans to increase the amount of IT funds that flow to women- and minority-owned businesses.
All three big state CIOs touched on procurement issues. Takai said that a perception of IT project failure had led the state's Legislature to pile on too much oversight, resulting in too much bureaucracy and micromanagement. She added that the state's procurement system had to change the terms and
conditions of its contracts and make them less onerous for the vendors. She added that on the subject of outsourcing, California law prohibits any outsourcing of work that state employees can do.
Procurement reform is a big issue in New York, according to Mayberry-Stewart. "We are modernizing our practices," she said. "Our goal is to speed up the [procurement] process without cutting oversight." The state is also focusing on more centralized contracting and enterprise agreements.
Rawson outlined the cooperative contract program in Texas that allows 4,500 customers -- cities, counties, school districts -- to procure IT products and services through the state. He closed with some advice for the vendors who want to do business with the state of Texas: "Align your vendor strategies with those of our government; bring me solutions, not products; bring your A team; be on time and on budget; and serve with integrity."