Community policing in the true sense isn't what it used to be given the state of local-level funding for hiring officers. Although police departments may not have the resources to engage the community face to face as often as they like, they're bridging the gap with Web 2.0 tools like Facebook and MySpace, as well as specialized law enforcement tools like CrimeDex and CrimeReports.com. Police have landed on Twitter too, where they hope to complement traditional media coverage by blasting out "tweets" to reach a segment of the population that might not read the daily news or watch it regularly on television.
Neighborhood policing traditionally meant developing personal relationships with local residents to build trust and cooperation. In many communities, that face-to-face communication has fallen by the wayside as budgets have contracted. The advent of Web 2.0 tools and social media sites has allowed police to reach hundreds of residents in real time.
"You have a whole social networking community now," said Robert Schommer, police chief of the Huber Heights, Ohio, Police Department. "One officer can only reach out to so many people. If we can reach out to all those people who want to be reached, wow, what a force multiplier. Instead of the traditional officer walking through a neighborhood knocking on doors, we can outreach to the whole block and then some, and maybe a couple of people passing through the area who don't even live there."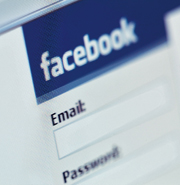 Post at Your Own Risk
Soon after sites like Facebook and MySpace materialized, police realized that criminals aren't shy about posting their criminal exploits and documenting their crimes online -- sometimes knowingly, sometimes not. Police know sexual predators troll these sites for victims. Even murder suspects can leave clues on their Facebook or MySpace pages. Now there's an almost constant police presence on these sites: behind the scenes where they may be quietly hunting sex offenders, or an upfront approach by posting videos and evidence to elicit public response that might help solve a crime.
Recently police in Auburn, Maine, arrested three crooks involved in a vandalism case after posting surveillance video on the department's Facebook page.
"We went live with Facebook back in February, and one of the first days we went live we posted some surveillance photos from a security camera of some kids who had broken into a local hotel and done some damage," said Jason Moen, deputy chief of the Auburn Police Department. "Within 48 hours of posting, we had names, addresses, the kids identified, interviewed and charged with burglary."
But it's more than nabbing vandalism suspects. Police are using these sites more often to share data, photos and videos about a wide variety of crimes.
"Detectives use every means of the traditional ways and also the new ways," said Mark Economou, public information manager of the Boca Raton Police Department in Florida. "It's very valuable to be able to put up a surveillance video on YouTube. Where the local TV station will air it on the 6 o'clock news and you may not see it again, we can keep that video up forever." The Boca Raton P.D. posted a clip of an armed robbery on YouTube that's been clicked on nearly 2,000 times.
The Auburn P.D. uses Facebook as its social networking vessel, Moen said. "We have press releases we put out that some of the media doesn't pick up because it's not newsworthy enough -- like when those kids broke into the hotel, we didn't issue a press
release because the media isn't going to cover it," Moen said. "We'll throw stuff like that on the Facebook site, and sometimes we get lucky with somebody recognizing somebody."
Tweeting a 24-Hour News Cycle
Law enforcement agencies learned long ago to use the traditional media to educate the public and ask for help solving crimes. Now they've found more outlets to reach more people and keep the message in the public eye.
Traditional ways of contacting local residents have gaps that can be filled, in large part, with Web 2.0 tools. They augment traditional communications, such as emergency notifications geared toward landlines, television news and newspapers.
"The folks [using] Facebook, MySpace or Twitter might not watch the news that night or read the paper that day," said Economou, who sends out all his police department's tweets in order to maintain a unified message. "In a 24-hour news cycle, a story is on the front page of the paper and then six hours later it's not on the Web or television or whatever. What we do [with Twitter] is drive them back to our Web site where the information is always there."
For the most part, police use Twitter -- a Web site that updates and broadcasts messages of no more than 140 characters -- for one-way communications to deliver information to the public and direct citizens to the department Web site, which they hope keeps crime information fresh in the minds of the public.
"It took the one-to-one text messaging and made it one-to-many," said Sgt. Mark Clark of the Scottsdale, Ariz., Police Department. "That's pretty good for public safety. If we want to get messages out to many cell phones, that's the way we do it."
Messages detailing where a crime -- such as a robbery -- occurred, and major traffic accidents that hamper traffic, etc., are delivered this way. "If someone drives into their neighborhood and sees crime scene tape, most likely there's been a tweet or a Nixle message saying what's going on in the neighborhood," Clark said.
Nixle is a text messaging service the Scottsdale Police Department uses in conjunction with Twitter. Nixle allows for 140 characters, like Twitter, but can be linked to a press release, photos or a map. "When we upload to Nixle, it uploads to Twitter at the same time," Clark said. A man responded recently to a Nixle message that included photos of stolen property that belonged to him, he said.
Clark uploads updates from his BlackBerry to about 900 followers, a number that has increased steadily since the department started tweeting in October 2008. He said he tweets or sends out Nixle messages about twice a day, sometimes more often. Some days he might not send anything. "It's incident-driven, and we try not to spam people because we know it's going to their cell phones."
The tweets go to the local media's news desks and anyone else who's interested. While it's mostly for one-way communication, sometimes there's reciprocation.
Finally Sharing
Social networking sites are also a way for law enforcement agencies that traditionally operate in silos to share information about cases and crooks. That's how, in 1999, the concept for CrimeDex came to Jim Hudson, then a supervisor with the Portland, Ore., Police Bureau's Fraud Detail.
"That was the original idea -- an online database to bring everybody together to realize they're working on the same case," Hudson said. "That was a major problem. We'd be sitting around the room with maybe 100 investigators from two states passing around Xerox copies of checks, and everybody is trying to remember if they have a case like this back in the office. You'd invariably discover three agencies had been chasing the same guy for six
months and nobody knew it."
He calls CrimeDex a "Facebook for cops."
What started in 2001 as an online database has grown into a network for state, local and federal law enforcement, banks and other groups to share data, video and communicate in real time -- much like Facebook or MySpace. "We're building a community with groups that are associated with groups," Hudson said. "The California financial crimes investigators have their own groups. They put their information in the database, and it may be an officer in Massachusetts who discovers he's working the same case as somebody in California."
With CrimeDex, investigators from different agencies or regions can chip in pieces of the puzzle that lead to solving crimes more quickly.
Hudson said on many occasions, a photograph of a crook was uploaded on CrimeDex and law enforcement in another state recognized the subject. "We've connected crimes across the country that nobody knew were connected," he said.
None of the sources for this story was concerned about infringing upon the privacy of subjects profiled on any of the social networking sites. They say using the sites is no different than using traditional media.
"We would never post anything or do anything regarding sensitive information," Schommer said. "If we had a wanted person, we might put their name in something, but that's no different than the newspaper."
Hudson said CrimeDex operates under the premise that law enforcement or anyone else posting on the site shouldn't post any information unless they're willing to make a police report on it. "If you don't feel strongly enough about it to make a police report, we don't want it," he said.
Hudson said sites like CrimeDex are a high-tech wanted poster. Moen likened Web 2.0 to one big electronic neighborhood watch. "When we send out updates or press releases, a lot of people have Facebook right on their cell phones and they'll get a text saying we've done an update, and they go to our Facebook page and check it," he said. "It's amazing to see how connected people are to it."
Looking for the latest gov tech news as it happens? Subscribe to GT newsletters.